This years PSP North East Open is being hosted at Smart Parts All American Paintball Park in Greensburg, PA. While the paintball community has complained over the years for NEO event being "in the middle of nowhere", this year brings the pro paintball event out of the soccer fields and to a professionally operation paintball sports complex.
The event is currently experiencing bad weather, rain+hail have postponed the games.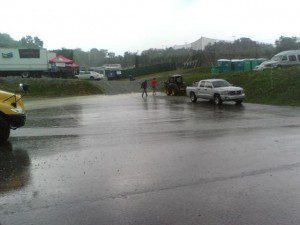 The brilliant minds behind the NXL/PSP had the idea to replace the NXL spectator side bleachers with, get this, terraced dirt steps. How does a league go from TV deals with Dick Clark to dirt seats for loyal fans?
Holding a premier league event on the grounds of one of the biggest industry partners might come across to some as a conflict of interest. The guys behind PBReserve (now our very own Below the Belt) have been speculating for weeks that some Smart Parts shenanigans might be up and sent in an investigative team to uncover some dirt. Here is what they found:
Smart Parts factory teams the Philly All Americans and San Diego Dynasty not only walked the fields but had full match style practices on the NXL field(!) all week leading up to the event.
During the Tampa Bay vs. Philly All Americans game: Damage player has discovered several of the bunkers pre-marked and pointed out to sidelines coach/spectators on the snake side. Closer inspection revealed marked blind shots being used by Philly All Americans snake side to take opponents out of key bunkers.

-Tampa Bay sidelines Coach (name coming)
The last time players were found to be practicing a field prior to the event was in 2001 by Avalanche. Mark Knop and another 'lanche teammate were found practicing for PSP LA Open @ SC Village for 10man and the team was subsequently fined $2,000.00 per player.  Curious what the NXL Commissioner has to say about this one! With Smart Parts and DYE running the league and the administrators in their pockets, one can only imagine the possibilities.
4.2.11. Any person on the field of play outside of field-walking times designated by the promoter or immediately before, during or after a game in which the person is listed as a player or staff
member of a competing team without the permission of a judge or authorized event staff will be assessed a major penalty.
Impact's Josh Davey injured with a broken leg and will be sitting the event.
Aftershock picks up Avalanche player Arthur trillick.
Infamous picks up Carl Markoswki (as reported earlier this week).