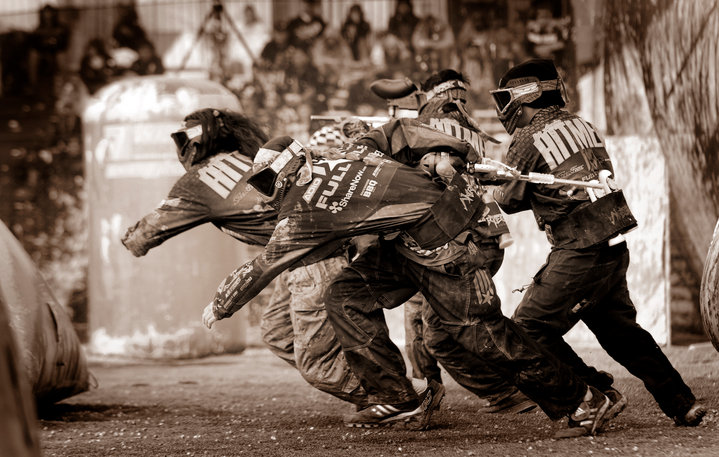 Over the last 6 years the LA Hitmen have been working hard to make a name for themselves. The team has grown from a handful of players to a club with over 100 members competing pump, tournament and scenario paintball competitions. In recent years the team has signed liscensing deals with major manufactures such as Hawaiian Island Creations (surf wear manufacture) and Guerrilla Air (light weight paintball air-systems), and Full Clip (scenario paintball gear). Today's announcement has word that another licensing deal has been struck, this time for a new line of LA Hitmen hard parts.
LAPCO and the LA Hitmen are proud to announce a multi-year licensing collaboration and new paintball products.
LAPCO (Los Angeles Paintball Company) and the Los Angeles Hitmen (LA Hitmen) are proud to announce a multi-year licensing collaboration. They are creating a line of products that can withstand the many abuses of paintball . This is the line that the paintball players and the industry have been wanting and waiting for. These products are tested and approved by "ambassadors" in the paintball world.

 

Since 2005, the LA Hitmen have been sniping their way to victory after victory with precision accuracy with over 25 first place wins in numerous paintball series. From 3-man to 5-man to big games to milsim and "OpFor" training, the Hitmen is a force to be dealt with. Recently, the team won an award at Scenario Paintball SuperGame 42 in Oregon for "Best Attack Team". They also recently won the Blitz Regional Pump League Series Championship as well as the last event itself. The Hitmen continue to dominate in the pump division and have been doing so for years. "The decision to partner with LAPCO and create a new line of products makes a lot of sense". "I love that they make everything in Los Angeles and have been around for 20+ years in paintball, supporting a lifetime warranty all along the way" stated the LA Hitmen team captain Derrick Obatake.

 

Los Angeles Paintball Company aka LAPCO

To promote the new line of products, the team is re-launching the "Paintball Sizers" for cocker threaded markers. Paintball players experience problems of ball rollout and inconsistencies in flight patterns. This has been a problem for many years and this small device solves both issues. Copied by numerous companies over the years, LAPCO was the first to release Cocker "Paintball Sizers" back in 1996 and has been manufacturing them for over 15 years. Now with the Hitmen's profound input, there is only room for improvement. The Hitmen's version of the Paintball Sizers includes a custom key to make it easier to get the sizers on and off. They are currently available in three sizes .678, .681 and .684. They are black anodized and lasered withLAPCO and LA Hitmen logos.

 

LAPCO uses only high-grade materials that are product specific. The use of minimal packaging helps to keep the product cost low and is a sustainable effort to keep the paintball eco footprint as small as possible. Here at LAPCO, we do all we can to keep costs low in order to allow players to spend more time playing the game. The minimal price of LAPCO products continuously proves that products "Made in the USA"  can be made affordable.

 

"We here at LAPCO welcome the LA Hitmen and are looking forward to creating many new products with them" stated Sergey Levkov of LAPCO.

 

LAPCO has been manufacturing only the highest quality paintball products since 1987. All LAPCO products are made in the USA and offer the world famous "Lifetime Warranty". This also applies to our entire new product line.

 

For more information, feel free to email us at sales@lapcopainball.com or visit the LAPCO Facebook Fan Page. www.facebook.com/lapcopaintball
We are looking forward to checking out the new paintball gear the LA Hitmen and LAPCO are coming up with.
What paintball products, for pump or semi paintball guns, would you like to see come to market?