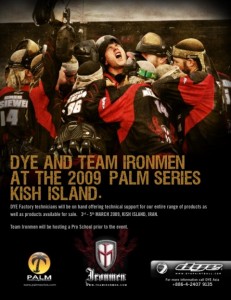 Ollie and the Ironmen have been busy! Following on the heels of yesterdays report that Johnny Perchack and Greg Sewiers had left the team, we have just learned that Marcello Margot has ventured off as well. Marcello was seen practicing with Aftermath the weekend before NPPL SD and our bet is he will be trying out for SDA in short order.
With the addition of Jon Richardson, the team plans to compete in the Middle East "Palm" Paintball Series. The Ironmen will be competing in the series opener taking place in the country of Iran during the first week of March.
Rumor: The team is going to try and play D1 USPL in HB and go after the cash prize.
Note: USPL has stated that PSP Pro players won't qualify for Semi Pro but the Ironmen may have a way around the classification issue.