Name: Billy Wing
Age: 34
Hometown: Santa Rosa, CA
Occupation: Sales rep, DYE
Paintball Team: Los Angeles Ironmen
How many championships do you have under your belt? I have played Pro paintball for 14 years. For that entire time I have played solely for the Ironmen. I've won 3 world championships and about 14 tournament titles.
General interests other than paintball: Not much, work, moto GP, Caribbean, and Venezuelan Rum.
1) ProPaintball: The 2010-2011 offseason saw the departure of Ollie Lang to San Diego Dynasty. With the departure of Oliver, do you believe the Ironmen will become a stronger orweaker team? Why?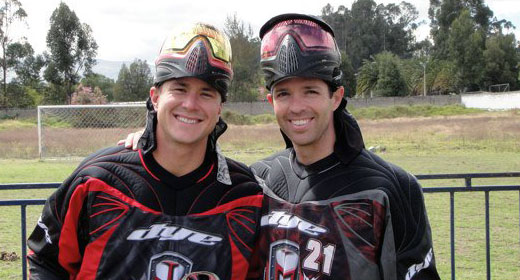 Billy Wing @ LA Ironmen/DYE Precision – In the short term, losing Oliver may have hurt the team. He is a talented player. However, losing Oliver and his sometimes over bearing personality will absolutely make the team stronger, and bring the players closer together. It will allow players like Scott Kemp and Brandon Short to take a sense of ownership in the team and move into well deserved leadership roles. The organization will be focused more on developing a program built around players that have a sense of pride and loyalty to the shield, not just a place to stop by and get a paycheck. Over the last few years the Ironmen were recruiting top-level players to quickly build winning teams, not necessarily a winning, long-term program. Every year you would see several big names come and go from the roster. Many of these players joined the Ironmen because of large contracts. We as an organization want to move away from the "quick fix" team build, and work towards long term, sustained success.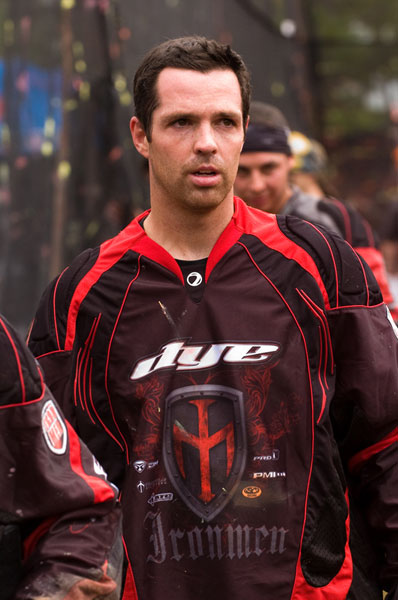 2) ProPaintball: With Mikko's absence in Galveston (assisting with the launch of DYE SNOW) and Ollie's departure for Dynasty, many anticipated the Ironmen would have a slow start this season–but the Ironmen surprised everyone with a 6th place finish. What was done differently?
Billy Wing @ LA Ironmen/DYE Precision – Although we did not place top 4 in TX, the first event was a very good indicator that we are on the right path to accomplish our goals for 2011. At the beginning of the year we made a decision to focus on long-term goals. As opposed to last year where we viewed every event as a do or die situation. Last year we ran our best 6 players almost every point in every match. We played in a panic, with poor strategies and possibly even poorer game plans; we were relying almost entirely on our individual talents to win points. Prior to Texas we dedicated a lot of training to changing our mindset and committing to playing as a real team. I feel this new strategy for the team will be successful, and was well displayed in TX, the talent and ability to win is clearly present. But, so was the lack of consistency that is needed to win, and that can only comes with time, training, and commitment.
3) ProPaintball: What can we expect from the Ironmen for the rest of the season. Will this be a rebuilding year or will you be going after the podium?
Billy Wing @ LA Ironmen/DYE Precision – The Ironmen will absolutely be going after the podium, that's why we compete at this level, to win. For 2011 the focus is developing and refining a program and system that is built around a team not individuals, Coach Kevin is a big part of this. Last year we failed our rookie players by not giving them consistent playing time at events. This year helping players like Chris Catt, Eric Humphreys, and Kyle Spicka develop and gain tournament experience will be one of our focuses. I think the Ironmen will continue to surprise people this year, and I only hope teams continue to under value our abilities when they play us.
4) ProPaintball: A lot of our readers are looking for the extra edge on the field. Tell us about the Billy Wing signature series of guns.
Billy Wing @ LA Ironmen/DYE Precision – They are the best guns ever! Everyone should buy one, haha. One of the reasons I fell in love with paintball is because I got to tinker with the guns, and still to this day I like building custom guns and trying new things. Whenever you take any product to market some small sacrifices have to be made to make volume manufacturing economically viable. And because I have helped develop all of DYE's guns I generally know what those sacrifices are. When I get a chance to hand build a gun from the ground up I like to do the extra little things that I feel make the gun that much better.
5) ProPaintball: Will we see a Billy Wing NT11? What changes can we look forward to?
Billy Wing @ LA Ironmen/DYE Precision – Yes there will be a select few Bwing NT 11's I build this year. As far as what to look forward to, I'm not sure yet. One of the other things I get to do when building my guns is test new ideas for next years guns. So generally there is a little bit of next years gun inside my custom guns.
6) ProPaintball: Please walk us through a typical day for you at DYE Precision. What is it like to work  for a top tier paintball company?
Billy Wing @ LA Ironmen/DYE Precision – Because of my tenure in the paintball industry, and with DYE, I work in almost every department within the company. My main focus right now is Sales in Central and South America, so the majority of my day is centered around being a sales person.  I was one of the lead engineers and a production manager at DYE for the past 10 years I still work in R&D on product development, and on new gun designs. My technical knowledge of our products also finds me in tech support regularly. I also help with promotions and marketing, to protect and maintain DYE's brand image. My labor of love is team Manager, handling all logistical aspects of the team. So I stay pretty busy during the week.
7) ProPaintball: So we've noticed the I4 does not come with a visor. Discuss your personal feelings on the matter. Please share with us your custom visor making secrets.
Billy Wing @ LA Ironmen/DYE Precision – Haha, nice question. Most players don't use visors, and they just get thrown away, so it's good place for DYE to save cost and keep the goggle at an affordable price. For me, an i3 visor, and zip-ties work great, but you also have to cut about an inch off the front of the visor or it hangs too low and you can't see anything.
ProPaintball would like to thank Billy Wing, the Los Angeles Ironmen, and DYE Precision for their help in making this interview happen.