Birth of a Storm, the debut paintball video from the New England Hurricanes, was a major success. Since the films debut just 30 days ago, Birth of a Storm has become the 4th highest rated paintball video on youtube, a major accomplishment for the Hurricanes first episode.
We recently had the opportunity to catch up with the directors of the Hurricane video series who let us know that they will be running a special pre-screening contest for the much anticipated second episode. Read on for official details and a few words from the Chastney brothers;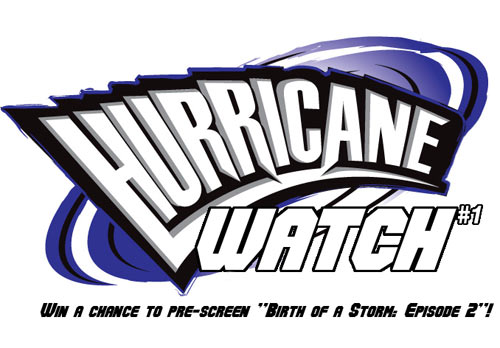 A note from the directors:
Fellow Ballers,
This past weekend, Deadbox Media and the New England Hurricanes converged on Maynard Paintball Club in Massachusetts for the team's first official practice and filming of the second episode of the "Birth of a Storm" documentary series.
In this next episode, the players battle through injury, upset, and opponents as they take their first steps towards becoming a professional team and YOU could be the first to see it! The public release of "Birth of a Storm: Episode 2" is scheduled for 12:00 AM on April 25, but on April 20 we will allow a select few to privately pre-screen the episode via youtube. We expect this episode to be the best yet, so don't miss your chance to see it FIRST! (Contest details below)
-The Chastney Brothers
P.s. if you haven't already, check out the Episode one HERE and don't forget to fan up and leave some love on the Hurricanes Facebook wall! We appreciate your support!
HURRICANE WATCH #1
The prize…
Exclusive privileges for you and a friend of your choice to privately view "Birth of a Storm Episode 2" via youtube FIVE days before the rest of the world. (10 winners)
How to enter…
Go to the "NEHurricanes" facebook page and become a fan (Official page: NEHurricanes)
On the Hurricanes Facebook page, below the picture, click "Suggest to friends"
Select all your friends (one by one) and click "Send suggestions"
Post the number of suggestions you sent to the Hurricanes facebook wall
Rules, deadlines, and other important stuff…
Contest runs 4/5/2010 through 4/19/2010. Deadline to enter is 8:00 PM on 4/19/2010.
10 winners will be selected on 4/20/2010 and given viewing privileges from 4/20/2010 until the public release on 4/25/2010
To be eligible you must be a fan of  "NEHurricanes" on facebook, have suggested the page to ALL your friends, and posted the number of suggestions to the NEHurricanes facebook
To redeem your privileges you must have a youtube account and become a friend of the Hurricanes on youtube (username: NewEnglandHurricanes)
NO SPOILERS! If you win, don't go post every explicit detail of the episode.
Anything not mentioned will be left up to our discretion. Any questions e-mail 

[email protected]

.
[youtube]https://www.youtube.com/watch?v=4-_RqDAdBy0&fmt=18[/youtube]