The first event of the year is always the hardest for Russian Legion, this is no secret. The PSP has made things "interesting" by deciding to change the layout of the field, and certain aspects of the game itself. All things considered RL had a productive first event.We were able to secure the top sponsors we wanted for the 2011 season: GI paintballs,MACDev guns, SLY equipment, GA air systems, Virtue electronics, KM apparel,PBcustoms lasering, Paintballphotography.com and Social paintball media and new Russian Legion supporters like DYE precision and Exalt, so everything worked flawlessly. We brought new players who played in there first event, and they gained valuable experience.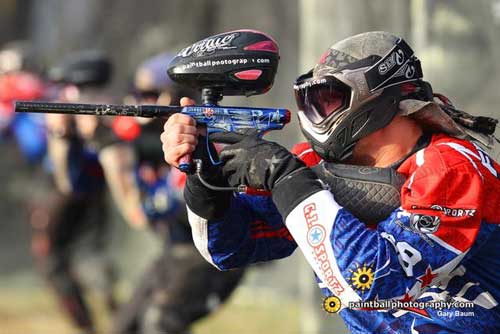 Our team has a lot of experience in finals games, but not much experience in losing them. It's probably the worst feeling in professional paintball, knowing that you can and should win, but having the other team take it away from you. We have done it countless times to teams, and overall it can take you in two directions; you can worry about the future, worry about losing again, and inevitably become worse because of it. Or you can learn from it, which is what professionals are supposed to do. Our team is built to learn from its mistakes, and we will come back and work harder to become more dominant in any type of game they decide to change this league to. Thanks again to all of our amazing fans,and our great sponsors, you make us who we are.
Russian Legion, Matt Blonski #187.
Special thanks to Gary Baum at PaintballPhotography for the photographs as well as making this report possible.