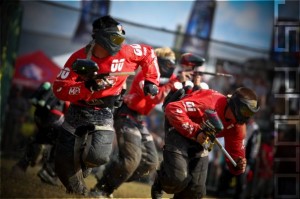 Former LA Infamous pro paintball player, G-no Benedicto, has decided to come back into the world of pro paintball. G-no took a short break after playing with VICIOUS at World Cup 2009 to take care of school, work and his most importantly, his daughter.
Updated @ 11am Wednesday with a statement from G-no.

G-no will be returning to the dorrito side of the field for VICIOUS for the rest of the 2010 pro paintball season.
We caught up with the captain of pro paintball team VICIOUS, Greg Pauley who told us;
G-no called us 3 weeks ago and said he missed playing with VICIOUS. It was an easy fit as he gets along with everyone on the team very well. We are excited to have him back.
G-no later added;
"Real life is tough and stressful. I'm excited to have paintball back in my life. It was a drawn out process to finalize things with the organization and I am happy that it's over with so we can move on to the next step. With my experience, I will do my best to help the growth of this young and hungry team into a formidable pro team. From what I've heard, we have a some work to do and I am excited to get started."
Credit: JS Photo