UPDATE: Our FREE Paintball Webcast is now online!
Teams from across the world are preparing for a combination of paintball events hosted in Glendale, AZ at the University of Phoenix Stadium. Tomorrow begins the pro paintball finals that were postponed from PSP Galveston (due to extreme weather). Friday morning the 2012 PSP Phoenix Open kicks off with a bang. Pro and divisional competition and a huge paintball trade show will run through the weekend.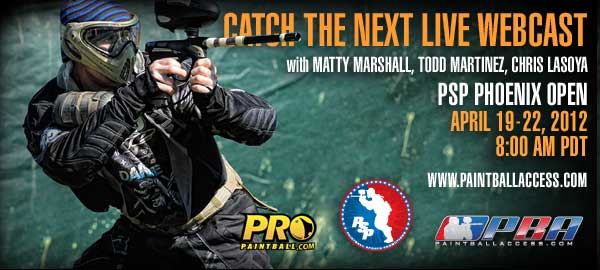 The next 4 days will feature some of the greatest action best paintball has to offer. For those of you stuck at home (or in an office), be sure to catch the free paintball webcast on ProPaintball.com powered by Paintball Access.
Read on for official schedules and more.
These are the remaining preliminary matches from the Galveston Island event that had to be postponed due to weather. Phoenix matches will begin Friday morning.
Thursday, Pro Schedule (All times are Pacific):
8:00 AM Tampa Bay Damage vs Houston Heat
8:45 AM Omaha Vicious vs upTon 187 cRew
9:30 AM Moscow Red Legion vs LA Infamous
10:15 AM Tampa Bay Damage vs upTon 187 cRew
11:00 AM LA Infamous vs Houston Heat
11:45 AM Moscow Red Legion vs Omaha Vicious
Quarter-Finals, Semis and Finals will follow.  After Thursday's games are completed, a schedule of the Professional Games for the Phoenix Open (starting at 8:00 am on Friday) will be released.