Success in paintball is no longer just about bringing the fastest, most athletic players available together onto a team; nowadays you actually have to put in the hard work both on and off the field to ensure victory. Field Designer is a comprehensive package that takes the hassle out of the most mundane tasks in paintball; no more worrying about which field layout to set up for your next practice, no more scribbling field notes and tactics on scraps of paper…….Field Designer has it all. Already sanctioned by the NPPL, PSP, Millennium Series and RPL (with 2011 bunkers already added), Field Designer is instantly compatible with all of the latest professional field layouts. Featuring options such as "Notes", "Tactics" and "Mirror" as standard, the possibilities for creating custom layouts and winning strategies are infinite!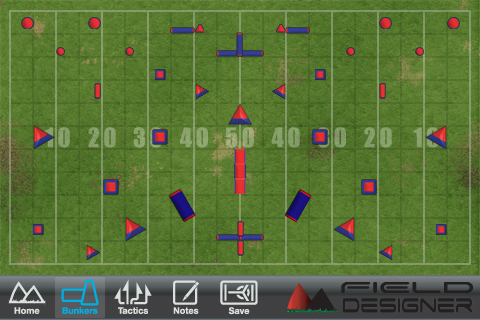 Key features of Field Designer include:
Competitively priced at £3.99 (GBP)/$6.99 (US and CAN)/5.49 Euro, Field Designer is available for purchase now via the iTunes store
Custom Fields. Create custom field designs in minutes using bunkers from any professional league.
Mirror function. Halve the design time – literally!
Tactics. Mark on shooting lanes, highlight players positions or breakout paths with a touch of your finger.
Notes. If the Dorito 1 bunker has a great shot on the 2nd Snake knuckle – you'd be crazy not to add a note.
Strategy saving. Got an idea for a killer game plan? Save that strategy to show your team mates.
Shake it. Made a mistake on the Tactics? Shake once to delete your latest tactic. Shake twice to start afresh.
Future proof. Annual bunker updates providing compatibility year after year
Pro Paintball was recently able to catch up with the staff of Ant Apps for an exclusive interview.
Tell us about the development process for a paintball specific app.
Ainsley Baddeley/Ant Apps: The creation of any app starts with what's most important……the initial idea. In our case, with Nick and I being paintballers, I guess we were both looking at something that would be a valuable tool for paintballers to use and not just a game or gimmick. When I approached Nick with the idea it was clear that Nick also had been thinking along similar lines, so it seemed foolish not to pursue the idea. The development process is a long journey, and one that needs to be mapped out from beginning to end. Every option, graphic and pixel need to be arranged and designed in order for the developer to be able to integrate them quickly and easily into the code. This might not sound like a big task, but just getting to this stage is a feat in itself, before the coding has even started. I've lost count of the hours spent scaling the bunkers and tweaking the grids used on Field Designer! When it comes to the development of an app, the time and cost varies greatly depending on the work and depth of code involved. In the case of Field Designer, with the app being so complicated and varied in functionality, it takes thousands of lines of code, which is constantly being revised depending on usability factors when a certain feature is tested. As you can imagine, many hours were spent testing the app at various stages throughout its creation and so Nick and I had to work very closely with the development team, constantly giving feedback on the "feel" of the app. All of the above takes a lot of time and money, and knowing that our potential market was very small was also a huge risk on our part, but one we were willing to take as the app is something that we would both want to use and see out there. Call it madness, or a fun experiment for two paintball fanatics, either way, we're proud of the finished product. Whilst we won't be retiring any time soon, we hope that Field Designer and our future paintball apps will be something that the community will embrace and appreciate.
Is there the ability to share notes/etc with friends? Or are there any plans to incorporate a feature like that?
Ainsley Baddeley/Ant Apps: Currently there isn't the ability to share the notes and tactics, however it's something we always wanted to add at a later stage. We knew that people would want this (as did we) but it wasn't a necessity for the time being. The extra cost of coding to incorporate this feature was not worth the risk, and we needed to see if the market was out there to support the extra investment. Hopefully, if people keep buying Field Designer, it's something we can release down the line.
Tell us about Ant Apps, who does what role? What are your paintball backgrounds?
Ainsley Baddeley/Ant Apps: Ant Apps primarily consists of two paintballers, Nick Truter and myself, Ainsley Baddeley. Many people will know Nick from Planet Eclipse, being their Worldwide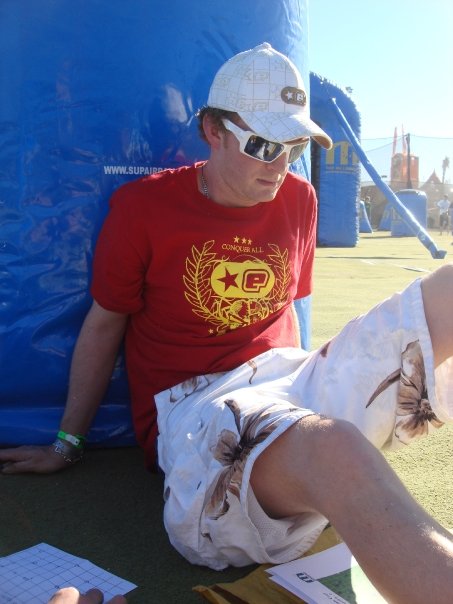 Customer Service and Tech Support Manager. Nick has also played paintball at a highest level in the UK with Nexus, and in the earlier years with the Rushers at amateur level. I have been playing paintball for about 10 years, but only seriously for the last three years. I play on a more amateur level, but run and play for a successful woods and sup'air team of around 30 players called the Lucky 15s, who have had their fair share of victories in the UK domestic circuit. For our roles within the company it's fair to say we both very hands on in exactly how the app would look and feel to the user, and spent countless hours developing graphics and liaising with our developer, determining the usability and functionality of the finished product. Now that Field Designer is released, Nick is handling all the promotion through his worldwide contacts, where as I am handling technical support and future development. We make a good team, and the partnership has worked out extremely well.
Have you had any Pro teams show interest in wanting to use the application?
Ainsley Baddeley/Ant Apps: In Short, yes! We are currently working closely with a number of professional paintball teams across the globe not only to improve the experience that a user can get from owning Field Designer but also to enhance our ideas for future applications.
What other types of apps can we look forward to seeing from Ant Apps in the future?
Ainsley Baddeley/Ant Apps: We do have a few sideline projects in the works outside the realms of paintball, one of which is about to be released shortly. However, for the future of our paintball apps, first of all we need to get back into the black on Field Designer. We are shortly to be releasing an android version of the app, and will keep everyone posted about a release date on our Ant Apps Facebook page. We have several ideas on the table, all of which are aimed at the paintballer, and specifically, apps that will add to their game arsenal. Here at Ant Apps, we're committed to making apps that are useful and fun to use and hope we can continue to do that in the future.
Field Designer for the iPhone, iTouch and iPad can be purchased in the iTunes store here.
Or by searching "Field Designer" in the app store.
Thank you very much for your time Ainsley.