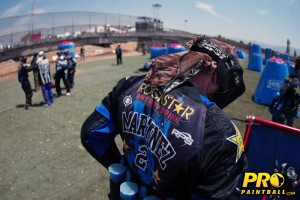 As a follow up to our paintball news story concerning Dynasty and the rumors surrounding Todd Martinez, we gave Todd a call for his statement. As an exclusive to Pro Paintball, Todd took a moment and broke down what transpired within the DYNASTY camp and where he stands.
Dynasty released me from the active roster but I am still a partner in Dynasty Paintball Club, LLC. The team felt we not longer had the chemistry on the field. I love the game of paintball and enjoy the fun of playing, the camaraderie of the unique individuals in this community, and the opportunity to bestow knowledge of the game to younger players as I have for 10 years as a pro. I am the generation that changed this game and I love to watch my sons take after me. I appreciate all the support that I have gotten and I only want everyone to be positive. I am not upset about the situation an nobody else should be either. For now I will continue to represent my major sponsors, which include: Raza Design, DerDer, Dirt Annodizing, Contract Killer fight gear, Toddsgearbag.com, Techpb.com, Golden State Sports, Aftermath Paintball, Violent Products, Wings N Things, Gecko Paintball, Giant Paintball and Splat Magazine. I also have another big personal sponsorship deal that will finalize next week. As of right now, I will be taking the rest of the year off.

Thank you for the support,

Todd Martinez
Want to learn more information about Todd and his latest moves? DerDer is filming a new episode of ShortBus on Monday and this time around a portion of it will feature a new section called "Ask Todd". If you would like to submit a question for Todd, please email it to [email protected].
Update: Todd took a trip to KEE Today (Wednesday) to pickup a fresh set of gear even though he is no longer with the team and remains teamless. This information was sent over directly from Todd's twitter account here.
Note from JM: Please help spread the word about Pro Paintball dot Com. Tell your friends. Just adding a link to your team website or signature on your favorite forums adds tremendously to our exposure. Thanks!