Understood Paintball has given Pro Paintball the exclusive first look to their new apparel lineup for the 2010 season, as well as the first look at their brand new colorways to add to the already existing GatWrap product. The entire new line of apparel will be making its debut at the 2009 PSP World Cup on October 7th-11th in Polk City, FL.
There will be a total of five new T-shirt designs and two new color variations of GatWrap's hitting the scene in October. Here is a break down on each design coming out. Without further adieu, here is the brand new line-up:
The World Cup exclusive design last year was a huge success, selling out within the first 72 hours of the event. That being said, a new three color design is in order this year, printed as an over-sized front graphic to show off just how much the ladies love Understood! *Note: This design is limited to only 36 pieces and once it sells out, there won't be any more made in any colors.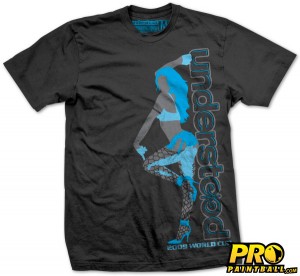 The XSV Underjersey- an all-over printed design to be worn by the team including the XSV Bear/Star logo and the Understood  iconic "U" in an alternating repeating pattern.

The XSV Rich Telford "pro model" is printed in a two-tone front print graphic of Rich in action!

To add to the previous Understood "All-Over U" printed design in teal is the all new Cool Gray all-over print repeating across the entire front and back of the shirt.

The "U-Wing" is printed in a semi-camo pattern down the front of the shirt in the company's two main brand colors Gray and Teal. Printed over-sized on the front of a white T-shirt.

Finally is a look at the two brand new colors of the GatWrap line, these two new colors featuring the brand new "U Chained" pattern. Each new color is a limited edition of 150 pieces manufactured.
All T-shirts will be available at the price of $20 and the GatWrap's will be sold for $30. Be sure to stop by at the PSP World Cup and pickup these great new products before they are gone!