Everyday is Halloween when you are Dale Price
Dale Price, Captain of the Paraplegic Turtles paintball team and owner of a chain of paintball stores known as Peg Leg Paintball, is once again in the media spot light.
This time around Dale is in the news for wearing a variety of costumes as he sends his son Rain Price off to school. According to a popular story found on AOL's Weird News (H/t Sammo);
Dale Price waves at his son's school bus dressed in a different costume each morning, American Fork, Utah, America – Jun 2011

It can be embarrassing when your parents wave you off to school, but when you are a 15-year-old teenager and your dad insists on dressing in a different comical outfit everyday, you have to feel for Rain Price.

His father Dale has adopted 170 wacky costumes to see off the school bus as it passes the family home in American Fork, Utah. The family has kept track of all the days on a blog – WaveAtTheBus.BlogSpot.com.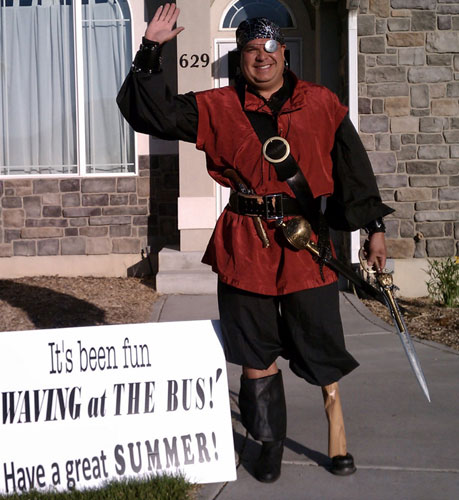 As you can probably tell, Dale Price is a character both on and off the field. Our team, the Edge Kids, played against Dale and the Turtles at NPPL Denver 2005. About 3 minutes into the game, Dale Price pulled out a paint grenade and tossed it down the field at us as he and his team came marching down the field blasting away. They were in the process of beating us as the reffs called the game. My brother Brandon and I grew up watching videos like the one featured below over and over on VHS and Dale was a legend. Here is a trip down memory lane..
Check out this video of Dale Price and the Paraplegic Turtles against Steve Rabackoff and the Houston Heat at the 1996 World Paintball Championships on ESPN2.
[youtube]http://www.youtube.com/watch?v=zn84DQqZGQ8[/youtube]