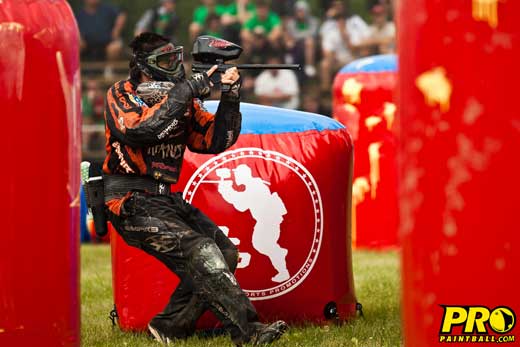 Empire Paintball sends word that they have opened their team sponsorship program for 2012. Throughout the 2011 paintball season the staff here at ProPaintball noted a huge increase in the number of teams shooting Empire Paintball Axe's, Prophecy Z2 Paintball Loaders, Empire Paintball Gear and RPS Paintballs. Pro teams such as Chicago Legend, Sacramento XSV, LA Infamous, San Diego Dynasty, Vancouver Vendetta and others all competed throughout the 2011 using Empire Paintball equipment.
We had a chance to talk to Thomas Taylor from Sacramento XSV about his Empire AXE at PSP World Cup. Thomas had nothing but great things to say about how well his AXE was shooting, his equipment performed, and his appreciation for Empire Paintball's continued support.
Does the prospect of a deal on or maybe even free paintball gear sound like something you are interested in? What are you waiting for? Apply now to take advantage of Empire Paintball's "Get Sponsored Like a Pro"-gram.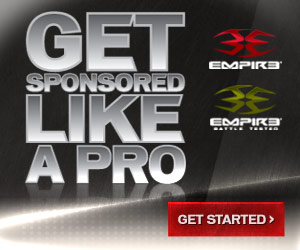 Empire Paintball says;
Welcome to the 2012 Get Sponsored Like A Pro program, from Empire Paintball. Teams around the world can get hooked up like a pro in 2012 with gear from Empire or Empire Battle Tested. If you have the heart and love for the game and are on a team of 5 or more then here is your chance to be a rising star.

Here's how the Get Sponsored Pro Like a Pro Program works.

Go to Empire Paintball click on the Field and Dealer Locator button and locate an Authorized Empire/Empire Battle Tested Dealer near you. Once you select your home field, make sure you reach out to them to notify them that you are trying to get Sponsored Like a Pro from Empire Paintball.
Then on the Empire website click on the Submission Page and enter your team's info and submit it to us.
Team Captains will be notified via e-mail if your team has been approved for sponsorship for the 2012 season approximately 2-3 weeks after submitting an application.
If your team is approved, you will order your gear through the dealer selected in the application. Our dealers will be notified that your team has been approved for sponsorship and you'll have to arrange a time for you to review the gear packages available to your team with them directly.
Once you have your gear, you must send us a team picture with your new gear on. If you don't send us a team image, your team will not be listed on the Empire Paintball website.

Good Luck in 2012 and Get Sponsored Like a Pro Today!
A birdie dropped a note in our ear just as we were getting ready to hit publish. Apparently teams competing in NPPL Las Vegas that are wearing Empire Paintball 2012 gear and taking part in the Sponsored like a Pro-gram are eligible to receive 10 cases of free paintballs. Check out the sign up page for more information.