Edmonton Impact has signed with Procaps for the 2011 paintball season. The Canadian pro paintball team will be shooting DXS Gold Hellfire paintballs and wearing Vforce Grillz / Profiler paintball goggle systems. Fans will recall that Impact had an incredible run during the 2010 paintball season. Impact won the Millenium Series Championship and placed on the podium all season long in both the NPPL & PSP paintball circuits. Impact made a major move during the 2010 off season and picked up All-Star player Tim Montressor from Chicago Aftershock. Edmonton Impact is expected to continue to dominate the Pro circuit in the PSP, NPPL and Millennium Series events.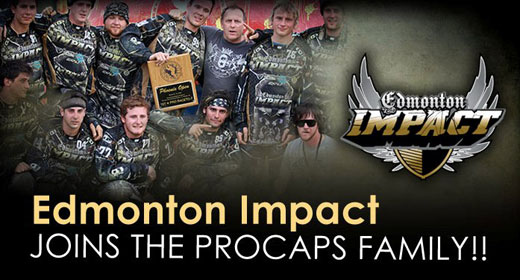 According to the official release on Procaps website:
"Edmonton Impact is very excited to announce that they will be joining Draxxus for the 2011 NPPL and PSP seasons. Along with shooting the Gold Hellfire brand of paint, Impact will be wearing the Vforce Grills to represent Draxxus on the field. Draxxus was one of the original sponsors of Edmonton Impact in their early climb through divisional paintball, and is one of the reasons the team has become what it is today. Looking forward to the 2011 season, Impact is hoping to capture their first overall championship while representing one of the most legendary paintball companies in the history of the sport. 2011 will be an all new year for Edmonton Impact who look to dominate the competition with Draxxus as their newest sponsor!", says Bart Yachimec, of Edmonton Impact.
Josh Davey, Impact's Captain said, "I'm happy to be working again with the first company that sponsored me as a pro player. I wore Profilers playing on Oakland Assasins and it's good to be back with DXS and VForce, feels like being reunited with family."
"Impact's achievements on and off the field makes them an ideal candidate to represent our brands. With Edmonton Impact on board and more announcements coming shortly, 2011 will be a great year for Procaps & its family." said Eric Stork, Procaps Director of Sales.