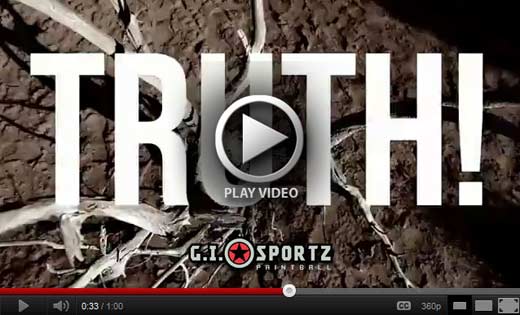 DXS and GI Sports have put together a video explaining the benefits of paintballs made with PEG. Polyethylene glycol, or PEG for short, has a low toxicity when compared to harmful oil-based paintballs. In addition to being environmentally friendly, PEG-based paintballs have a thicker fill which leaves a great mark on your opponents. In recent years, several manufactures have switched to oil-based paintball fills to provide a slightly cheaper product. Unfortunately these oil-based paintballs may harm the environment.
Here is a video and a few words from GI Sports & DXS talking about PEG Paintballs.
[youtube]https://www.youtube.com/watch?v=CHViGEGLA4I[/youtube]
We play paintball for the thrill of the game.
We play paintball to share the experience with good friends.
Thanks to the ingredients in a quality paintball made with PEG, we will continue to play paintball and enjoy the outdoors.

So dont fall victim to lesser brands that destroy our playing fields.
(Thinking about the "now" with no regard for the future belongs to a generation that is no longer relevant)

Keep away from oil filled paintballs so that our game can live forever.

Check it out at: https://gisportz.com/
When purchasing paintballs, ProPaintball highly recommends you choose from any of the following brands; GI Sports, Draxxus, or Empire Paintballs. These brands are non-toxic and the fill is biodegradable. These brands all use PEG as a main ingredient and feature a very visible fill that leaves a bright mark on your opponents when the balls break. While GI and Empire recently joined as sponsors of ProPaintball, the staff here at ProPaintball has been shooting these brands exclusively for over a decade and hold them all in high regard.
What are your favorite paintballs?