Its official, socal's finest are back together. Read the full press release below;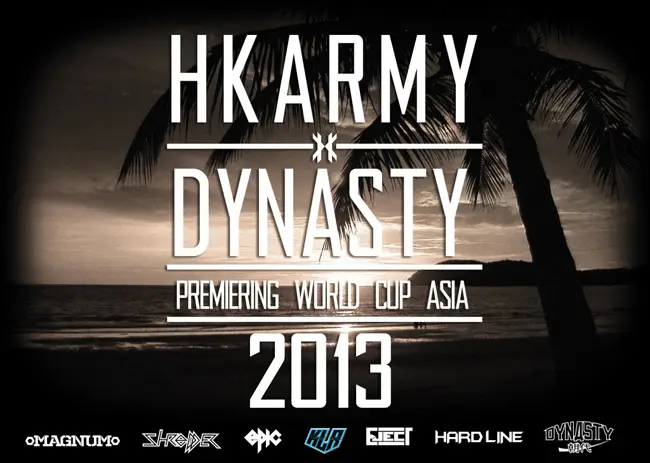 HOLLYWOOD, CALIF. — HK Army is proud to announce signing San Diego Dynasty to a 2-year sponsorship contract running through the 2013-14 season.
Dynasty will use the full line of HK Army gear including the Hardline series gear which includes jerseys, protective pads and Pro pants plus the Eject harnesses, Rock n' Roller gear bags, Rider backpacks, Epic Speed Feeds and Shredder Cleats.
"Dynasty is the most successful paintball team on the field and HK Army is arguably the most successful off it in terms of marketing and branding," said Ryan Greenspan of San Diego Dynasty.
"We've watched their explosive growth over the past few years but we know firsthand an overnight success is ten years in the making. Our teams have always supported each other and it was time to make that relationship official."
San Diego Dynasty is the most accomplished team in the history of paintball, having won more than 50 professional tournaments. Dynasty is a three-time Triple Crown Winner (NPPL, PSP & Millennium Series championships) and currently hold both the PSP and NPPL titles.
Dynasty will also provide valuable R&D testing of new products to be released in the coming months.
Mark Kressin of HK Army, aka Mr. H, said "Dynasty is the greatest paintball team of all time and we've been both lucky enough to grow up competing against them and now to have them in our stable of sponsored teams."
You will find Dynasty wearing HK Army gear as they compete in the NPPL and PSP series events in the United States and the Millennium Series in Europe plus international events throughout Asia, Australia, Africa, Europe and South America.
Team Dynasty will also partner with HK Army to promote their popular Crash at the Coast training events, Streetball events and their professional player clinics worldwide.
Dynasty has not finalized its 2013 roster; the team's track record strongly suggests they will continue to surround their veteran core with young talent and compete at the highest level of the sport.
HK Army will support Dynasty on the field and off, collaborating to promote both brands.
For more information about Dynasty, visit their website at www.DynastyPaintball.com or interact with the team on Facebook at facebook.com/DynastyPaintball.
Visit hkarmy.com for the 2013 catalog, blogs, videos, event photos and more.