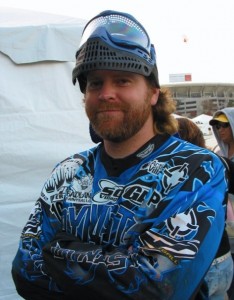 Brad Maughan, a founding member of pro paintball team San Diego Dynasty, recently ran into some health problems. Read on for several updates from Dynasty, including word that Brad was inducted into the San Diego Hall of Fame and official confirmation of the teams new paintball documentary.
Update at 10:45am with a few words from Brad
"Founding San Diego Dynasty member and 5-time World Champion Brad Maughan was diagnosed with a benign brain tumor earlier this year. In an effort to preserve the hearing in his right ear, Brad has opted for immediate surgery this April. "Brad has been part of the Dynasty family since the beginning, and he's also a close friend," said Dynasty Captain Alex Fraige. "We wish him a successful surgery and a speedy recovery."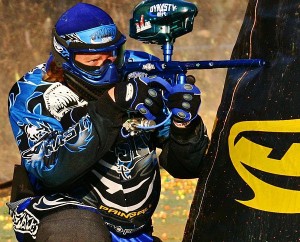 Although, retired from professional play (1999-2006). Brad was recently pulled out of retirement by the factory Planet Eclipse team the "Sandbaggers" for the PSP's World Cup 2009. As of late Brad has also played in the UWL and pump-gun tournaments as a member of Chuck Hendsch's "Henchmen" paintball team. The San Diego Dynasty organization also approached Brad this off-season to join the 2010, 10-Man PSP X-Ball team. Understandably, he was forced to decline as a result of his condition and scheduled recovery.
"I have a really positive attitude about the whole thing. I wanna get in and out of the hospital, get back on my feet, and back on the field." – Brad Maughan
Brad was recently inducted into the San Diego "North County Walk of Fame" along with pro vert Skater Bob Burnquist and numerous professional football and baseball athletes hailing for his hometown of Vista California. On May 30th, there will be an open-air gallery unveiling along the Buena Vista Creek Trail paying tribute to Brad and the other notable North County residents.
Along with Brad's contributions as a professional player he has also left an indelible mark on the sport of paintball through his filmmaking. Brad is responsible for shooting the opening black and white film sequence to "PUSH" along with his own productions of the KAPP/NPPL 10-Man Video Series, Avalanche 101, the Jawwbraker Video Series, the Dynasty Dysected training Video Series, and the first two NPPL Super-7 shows that aired on FOX Sports. He also consulted on ESPN's 2005 Paintball Championships and directed a "Telly Award" winning commercial for Kingman. His filming can still be seen in Planet Eclipse's "ETV" pod casts.
In celebration of San Diego Dynasty's 10-year anniversary Brad has been tapped to direct a documentary on team Dynasty in the vein of "Dogtown and Z-Boys."
The San Diego Dynasty organization would like to thank Brad for his contributions to the team, and the sport of paintball, and wish him the quickest of recoveries.
Team Dynasty."
Clarification: Push was filmed by Patrick Spohrer of Monkey With a Gun and was added as a reference for players that may not be familiar with the paintball video which has become a classic.