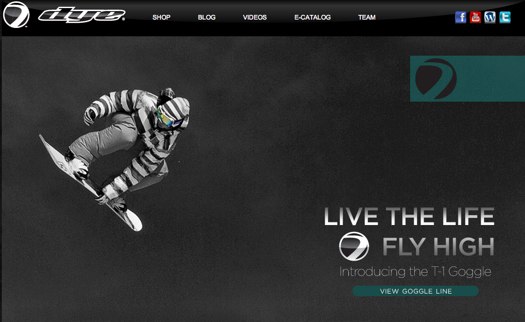 In Febuary 2011, rumors circulated that DYE was preparing to unveil Ski and Snowboard gear. A sneak peak of the new snow line was offered in a top secret booth at the 2011 PSP World Cup, while other elements were held for the Snow Show. Until now, not much has been known about this new DYE Snow line.
A few minutes ago we were alerted that DYE was launching the 2012 DYE Snow line at the Snow Show in Denver, CO. The DYE Snow line will be available for the world to see tomorrow through Sunday. If you are in the area, be sure to stop by booth #515. For those of you who are unable to make it, DYESnow.com is now online.
Check out this video of the new DYE T1 Ski goggle.
[youtube]https://www.youtube.com/watch?v=YBjRNVMhdbQ[/youtube]
The official press release from DYE SNOW:
San Diego, California (January 25, 2012) – DYE Precision Incorporated is proud to announce the launch of their new website dyesnow.com. The website showcases the flagship T1 Goggle, Protective Line & Casual Line.

Look for DYE at SIA Snow Show booth #515, in Denver, CO, January 26-29, 2012, where we will be debuting the full line of T1 goggles and more.

In addition, look for our sponsored athletes Markus Malin and Zack Black competing in the Superpipe during the 2012 Winter X Games.