Student athletes from across the country converged at Central Florida paintball park to compete in the College Paintball Championships, hosted in part by Fox College Sports, Empire Paintball and Dye Precision. Read on for the event results and a write up from the event.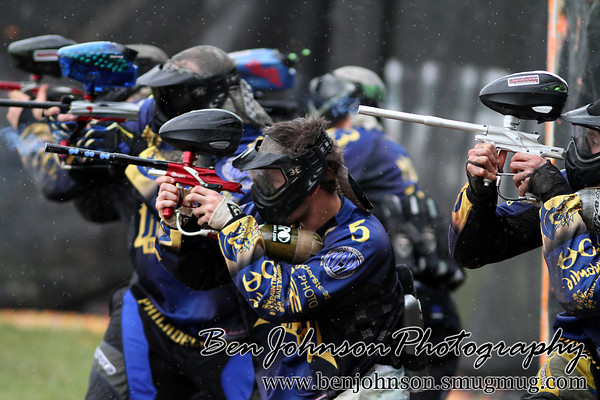 Updated @ 10:00pm PST: Added links to college paintball photo galleries.
With the best college teams in the nation once again meeting in Lakeland, Florida for the 2010 National Championships, everyone hoped for fair weather and a smooth event. Friday went unhitched, with the Class A prelims starting at 8am for a day of qualifiers, as teams fought long and hard to earn their place in the Saturday spotlight if they hadn't already qualified. The top teams from each conference included Drexel in the "North", Penn State in the "Ohio Valley", Northern Illinois in the "Midwest" and Tennessee in the "South East" conferences.
The qualifiers concluded Saturday morning, sending 6 of 18 teams home as underdog Cal State Long Beach beat out Northeastern University Huskies in the first match of the day. As the day went on, University of Florida Gators knocked out Ohio University, Last years second place team, while FAU beat PITT followed by Liberty sending Virginia Tech packing home.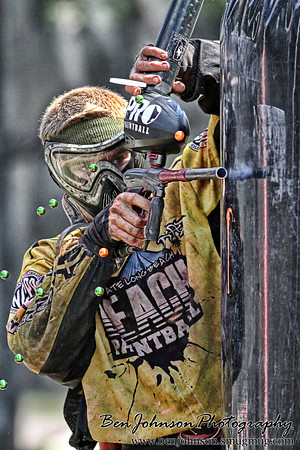 As it became apparent the match-ups were "Do or Die" and the quarter-finals began, teams fought even harder for survival as University of Connecticut Huskies, the 2007 Champs, battled Cal State Long Beach for their place in the Sunday club. Cal State brought it hard the first half, with the Huskies unable to get a point on the board, but came back just as hard to finish the match at 7-8 without enough time at the end to tie it up. Tennessee was next, starting out playing smart and fast against the Florida Gators with all their money on the table, ending with a wrecking 9-2 win over Florida on their home turf.  Next up was Drexel and FAU, in what was perhaps Drexel's closest matchup all season, Drexel took it home in overtime, 8-7. Last years champions, Purdue, then stepped up to battle Liberty Flames, and it was down hill from there. Barely able to get points on the board, Purdue struggled as Liberty kept their winning momentum going. Purdue started to bring it back, but couldn't stop the Flames as they won it 9-3. With one match to go before the Final Four was determined, Penn State and Long Beach were up to bat. Hoping Long Beach was tired in their third match of the day, Penn State started the afternoon with their first match fresh and ready to rock. But down in points the first half, they gained ground with a come-back in the second half, and with only 17 seconds on the clock and the board reading 5-7, every player pushed while one sprinted up the center to grab the flag. But Long Beach, guns blazing, were able to stop the stampede as the buzzer sounded and they made the last spot in the Sunday lineup.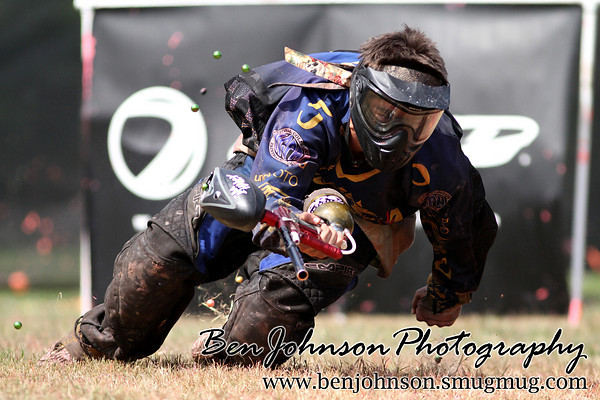 Finally, the day you'd all been waiting for. With the final four up to Tennessee, Drexel, Liberty, and Long Beach, only one could claim the crown as this years National Champion. The first game of the day started with Long Beach battling Tennessee, where the first two points Tennessee won with ease, ending Long Beach's usual first half winning spree. Pulling it back together, Long Beach gained points back and took the lead, in a great matchup between two top teams Long Beach pulled ahead to win 8-4. Meanwhile Drexel and Liberty prepared for battle, with Drexel arming their players in camo face-paint for extra appeal. The first half barely any points had been scored, with both teams getting penalties and slowing it down, it appeared Liberty might take the cake — but only the second half would tell. Drexel, un-tarnished and hungry for victory, brought it back playing their hearts out, and were able to win it 7-5.
Enter the championship match! Drexel University, a seasoned x-ball team, winner of the Northeast Conference, with great talent all around and 12 players rostered — Versus Cal State Long Beach, a team many thought wouldn't make it past prelims, having no x-ball experience, 8 players, no staff, and learning the field layout Friday with their first games — but strength doesn't always come in numbers! Two teams, both incredibly talented, both having made it this far, and yet still only one could be this years grand champion!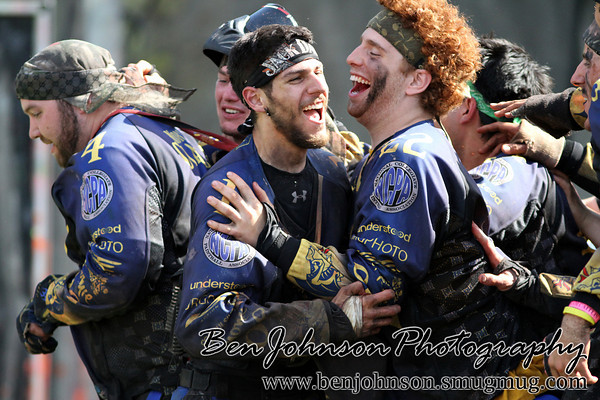 The games started out hot and heavy, with Cal State chanting "West Coast! Offense!", while the sidelines, nearly entirely East Coast fans, challenged back with their own chant of "East Coast! Defense!", and their favored team Drexel to do just that. Heavy laning off the break, both teams had 5 guns up, but Drexel held their conservative line and gun battled to win the first point. And then the second! But Cal State wasn't giving up, coming back to win two of their own and tie it up. Long Beach continued to try their offensive maneuvers, while Drexel held fast and rolled their guns, where some would say it fell apart for Cal State from there. Penalty after penalty stacked up, at first for both teams, but by the second half Long Beach continued to start games with a player or two in the box as Drexel pushed forward. As the fans cheered and counter coached, Cal State couldn't bring it back, eventually meeting their demise 4-11 — Making Drexel University Dragons your 2010 National Champions!!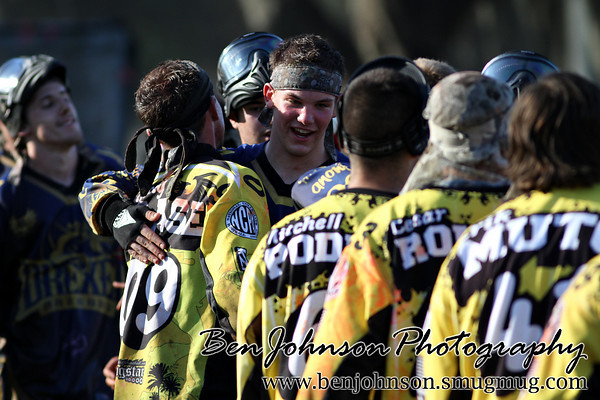 This year's 2010 NCPA College National Championships were excellent, with Chris Raehl doing a great job as always running a smooth event, we hope all you fans out there were able to catch the live streaming webcast on Fox College Sports Broadband. Be sure to look for the final matches to begin airing June 4th on Fox College Sports, followed by the NCPA DVD release and matches to be shown on Hulu internet tv. Can't get enough College Paintball? Watch previous years NCPA Championships on Hulu.com today!
Class A College Paintball Final Results

Drexel University Dragons powered by Understood Paintball
Cal State Long Beach 49ers
University of Tennessee Volunteers
Liberty University Flames

Class AA 5-man College Paintball Final Results

East Tennessee State University Buccaneers
University of Wisconsin – Platteville Pioneers Blue
University of North Texas Mean Green
University of Nebraska – Omaha
The following paintball photogalleries have been uploaded:
Additional Resources: