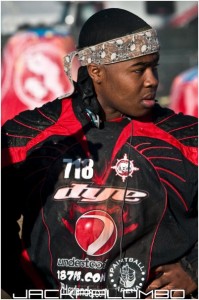 Cyril Akita and team L.I.F.T. out of Long Island recently made the move up to Division 1 X-ball. ProPaintball recently had the opportunity to ask Cyril a few questions about himself and the Long Island boys. Read on for an inside look at paintball in Cyril's eyes.
Name: Cyril Aaron Akita
Age: 19
Hometown: Queenzbridge ( Queens, NY)
Any hobbies other than paintball: Going to the Gym Everyday, hanging with my girlfriend, eating, friends, and playing the game of life.
Team & Home field: Paintball Arena Located in Long Island as well as Outdoor Adventures Chesapeake City.
Position you play: Insert Snake, Back, Anywhere on the Field
Favorite pro team: Ironmen, Arsenal, NYX (RIP)
Favorite pro players: Crunchy, C, G- NO Benedicto
Favorite tournament accomplishment? Chicago 2009 D2 Xball ( Good times)
Advice to any new players? You can accomplish anything if you put your mind to it. Hard work pays off in everything in life. There are no free tickets out there, if you want it you gotta earn it.
Mentors? My mother and father who gave me this opportunity to play this sport I enjoy. They work very hard and have taught me many things that I carry with me even though they don't think I listen. 🙂
How is paintball different in Long Island, New York: The paintball scene on Long Island is struggling. Fields are few and far between. In fact there are no real 'tournament' fields left on Long Island. Our team trains weekly at Paintball Arena in Long Island and on the weekends we travel an average of 2.5 hours each way to get on a gridded xball field, in fact recently the owners of OACC in MD let our whole team stay the night in his own house, He cooked us dinner, the whole nine yards, Thanks RICK! We have come to realize that in order to compete at a high level this is the way that it has to be. These long trips have brought us together like a family.
Briefly tell us about your team, LIFT: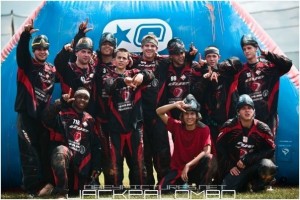 LIFT has been on the scene here in Long Island for the past 5 years in one shape or another, but last season was our first COMPLETE season, playing all of the events in the PSP. The team's core is made up of players from Paintball Arena in West Babylon NY. Like any team LIFT paid its dues by competing in every local tournament they could get themselves to. In 2008 the team competed in Division 3 in the PSP, the team grew exponentially during that year. It was our most successful season, getting 3rd place in the Chicago Open. As we prepare for PHX, we have tried to keep the taste of success fresh and train harder and smarter this year as our goal is to stand on the podium all season long in division 1. Our team is one of the most diverse teams there is, we age from 16 to 31, some of us are in college, like myself trying to balance studies with paintball, some of our guys have full blown careers, like JC who is a school teacher. We all come from different family backgrounds as well, my father is from Africa and my mother is from NY. Paintball is the one thing that brings us together, it's like having a whole other family. I would like to take this opportunity to thank our sponsors as well: Paintball Arena in West Babylon NY, DYE Precision, Understood, PB187, PBHeadbands, Draxxus and most recently OACC!
Goals for this season? To win as many events as we can of course! It is my personal goal as well, I would like to win not only for myself, but for the entire state of NY(showing paintball we still got it). We would also like to continue to represent our sponsors to the fullest as well.