CXBL Event 3 – Border Battle Paintball Event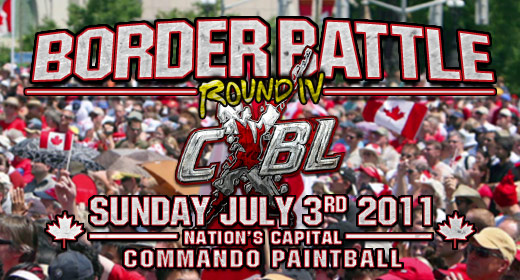 The "Border Battle" is a CXBL event that has both the Central and Eastern conferences playing paintball at the same time on four XBall fields. This event will be held July 2nd and 3rd, Canada Day weekend at Commando Paintball, in Ottawa.  It is the largest Xball event across Canada. In addition to the Xball matches, we will also host our annual Allstar Paintball Game. This match highlights the best XBall players from our Central versus Eastern Conference, hence the name "Border Battle".
American pro paintball players Alfred De Los Santos (Mutiny), Frank Connell (Aftershock), Cole Scott (Uprising), Chad "Yaya" Bouchez (Aftershock), Nick Slowiak (Aftershock) and Thomas Taylor (XSV) will be competing in the event.
[youtube]https://www.youtube.com/watch?v=HnDiV23as7Y[/youtube]