CXBL 2K11 Border Battle E3 At Commando Paintball – Part 1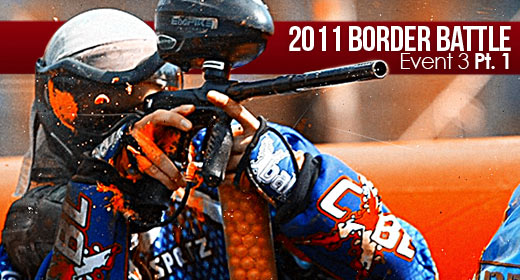 Eastern Canada recently faced off against Central Canada in the 2011 CXBL Border Battle over the July 4th weekend. The event was a huge success and there is tons of great paintball footage online and coming online documenting the action. This is the first of two clips and will be followed up with a full 45 minute Xball All Star match video featuring American Pro Paintball players.
Enjoy the CXBL 2011 Border Battle video covering both Central and Eastern conferences. This event is so big that we had to split the action into two episodes and another full 45 minutes, multi-camera All Star Match segment. In this part one clip, we sit down with Nick Slowiak, Neil Banville, Brad Oglestone, Billy Bernacchia, Kevin Norton, Thomas Taylor, and Gilbert Rossignol to give us the play by play on their matches and team performance thus far. Stay clicked to BuyPBL's Youtube for part two and the All Star Match coming to you shortly…more Pros, more Xball, more CXBL.
[youtube]http://www.youtube.com/watch?v=IciEdFTqJqI[/youtube]