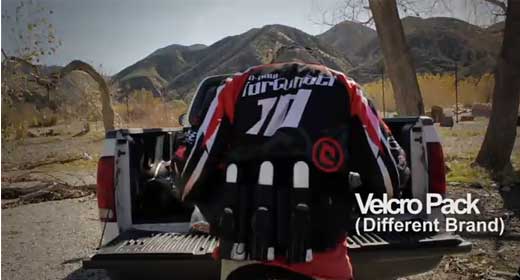 Check out the a first look at the new paintball harness from Critical, the Stealth pack. The video below was shot by Cassidy Sanders (of Hollywood HK) and showcases the super quiet, velcro-less pod launching technology.
The new Stealth Pack from Critical Paintball is a complete departure from the run of the mill standard pod pack. The Stealth Pack's unique stirrup retention system (with True Ejection) is radically different than the standard Velcro strap design employed by most other packs. The Stealth Pack allows for much faster pod removal, and a reduced player profile while removing pods, all without the noise of Velcro. These features are incorporated into a comfortable non-slip adjustable belt with Aero Mesh padding to increase breathability and comfort. The Stealth Pack also features an exclusive pod ramp to prevent the pack from sliding down your back and the pods from snagging on your pants while you remove the pods. All of these unique and exclusive features add up to the most exceptional pack on the market.
[youtube]https://www.youtube.com/watch?v=mphzq_k-Ubk[/youtube]
ProPaintball will be reviewing the new Critical Stealth pack shortly, stay tuned.