Capital Edge Paintball Park PRO Report by Tim Cerruti
Northern California was heating up this weekend and I don't just mean the temperature. Driving from Monterey Bay, California expecting another great weekend of paintball with our friends from Washington, DBS Kids. I left at 4:30 Saturday morning headed for Sacramento on another long drive. I guess I didn't get the memo but Oakland Blast, Sacramento XSV, and San Francisco Explicit would be battling one another all weekend at Capital Edge Paintball Park. Getting ready for Vegas seemed to be a pretty big priority this weekend because there were plenty of 7-man games being played.
CEPP offers a really cool set up at their facility where all of there tournament level fields are on the way to all of the Recreational fields and most of them can either be viewed from the parking lot and the players areas. Recreational and tournament players were glued to the action, watching in awe as some of the top pro paintball players in the game battled it out in the 7-man format.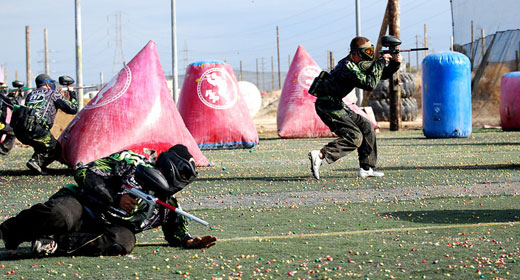 I'm pretty sure at this moment I can confirm that Ben Heywood, snake player for Nor Cal Fuzion, will be joining the NPPL Pro division and playing with San Francisco Explicit.
Greg Siewers also seems to have made the move over from San Francisco Explicit to Oakland Blast. There is no reason to believe that this move will affect him playing with Chicago AfterShock in the PSP.
I'm going to be spending the next few days trying to figure out how I am going to get to Vegas this weekend, so that I can see how the final event of the NPPL finishes up. This whole year has seemed to be a pretty crazy one; the good came with the bad. With only a few events left teams are going to be eager to finish on top.
Photos of Nor Cal teams getting ready for NPPL Vegas and PSP World Cup can be found over at PBMOB's facebook smugmug page.