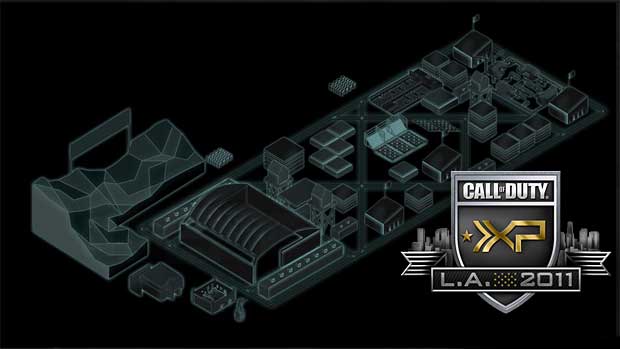 Video game fans and scenario paintball players rejoice! The latest Call of Duty video game is almost ready for release. In order to celebrate the launch, Call of Duty will be hosting a multi-million dollar scenario paintball event in Los Angeles, CA. For those of you unfamiliar with Call of Duty, the franchises most recent release, Black Ops, broke the billion dollar sales barrier and well over 600 million hours of Black Ops gaming were experienced in the initial 45 days of the games launch. Talk about a dedication! Now, coach potatoes and COD fans worldwide will have the opportunity to prove themselves both in the virtual world as well in real life. COD players have been invited to take part in a scenario paintball event unlike any other. Intrigued? Read on.
Play the Call of Duty Scenario Paintball event and win up to $400,000.00 in cash!
On September 2nd and 3rd, the Call of Duty XP (xp is short for experience) will pit 32 teams of 4 players against each other in a sudden death scenario paintball tournament. The winning 4-player team will receive $400,000 in cash courtesy of Activision/Blizzard and Microsoft. Tickets to attend are $150.00 and proceeds from the event will benefit the Call of Duty endowment, a non-profit organization that helps returning veterans find employment, establish careers and transition back to civilian life.
Events Detailed Thus Far:

$1 Million Call of Duty Operation – Call of Duty® XP presents the most high-stakes multiplayer gaming tournament ever devised, featuring an unprecedented $1 million in cash and prizes. Thirty-two four-man teams will wage war in a savage single-elimination bracket competition, in front of the cameras and thousands of fans.

Players worldwide will be able to pre-qualify for the tournament with stellar performances in Call of Duty®: Black Ops-check back soon for details. There will be opportunities to qualify on-site as well. Armor up, Call of Duty® diehards. This is your fight.

Prizes – Call of Duty® XP embraces players of all skill levels with numerous gaming competitions throughout the weekend. Hone your breach-and-clear skills in Special Ops, shoot your way to the top in King of the Hill matches or outlast wave after wave of the shambling undead in Zombie Survival mode. Combatants can win prizes from event sponsors like Turtle Beach and Microsoft, and there are surprises in store for Call of Duty® gamers at the event.

Run The Pit – Navigate The Pit, IRL. For the first time ever, players will have the opportunity to speed-run the infamous Modern Warfare 2® training sequence in real life, replicated onsite down to great detail. Prizes and bragging rights are available to top finishers.

Battle in the Scrapyard – Two teams will enter this astonishing real-world recreation of Modern Warfare 2®'s fan-favorite Scrapyard level. Only one will exit. OK, both teams will exit, but only one will walk away with pride-the other will walk away dripping paint. Massive Modern Warfare-inspired scenario paintball firefights like this happen in only one place – Call of Duty®XP.

Grab a bite at Burgertown – The only thing cooking at this full-scale replica of Modern Warfare 2®'s beloved Burger Town is lunch, not grenades. Take a break from battle to refuel with a Burger Town Classic or Chicken Burger, crispy or grilled. Burcak's Sundae shake, while delicious, will not provide immunity to zombies.

Explore the Call of Duty Armory – A unique opportunity to view Call of Duty®'s vast arsenal in person. Browse weapons and combat gear, Call of Duty® concept art and research, and explore the history of one of the most celebrated franchises in gaming.
This sounds like a great opportunity for scenario paintball players and video game players to combine their skills and make a go for the huge cash purse.
What do you think about the event? What are you looking forward to more, the scenario paintball tournament or trying out the new Call of Duty video game prior to launch?
Special thanks to the guys at the NCPA / College Paintball for the heads up.