Insiders report that Keely Watson has left the PSP. We managed to get a copy of the farwell she sent off. Click "readmore" for details.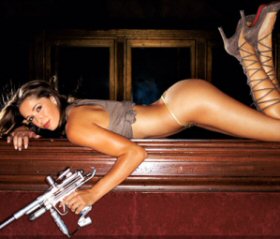 Hi,

This isn't an easy email to write. After 5 years with PSP, I have decided to move on and pursue other interests.

I wanted to write and say what a great opportunity it has been working in this industry and with people like you. I'm grateful for all the experiences I've had and friends I have made along the way. I have truly enjoyed all my time with PSP.

Thank you for answering emails, attending events, and generally supporting PSP over the past years. Feel free to c.ontact me anytime at [email removed] or by phone at [sorry guys!]. I wish you all the best going forward as the New Year approaches.

Please direct all future PSP communications to Lane Wright [email removed].

Happy holidays and thanks for everything!

Keely Watson
Stay tuned, more information to follow.
Photo taken by Maxim Magazine of Keely Watson