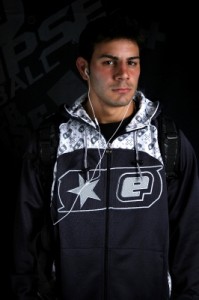 Star player Billy Bernacchia of the New England Hurricanes has officially unveiled his new website, BillyBernacchia.com. To start things off, Billy walks us through the Hurricanes matches during the 2009 Chicago Open paintball tournament and provides fans an excellent opportunity to view the games from the players perspective.
The following is an excerpt of the match recap posted over at Billys blog.
Hurricanes vs Tampa Damage
Having two overtime points basically brings us to 1 win. Depending on how the brackets go, 2 wins can usually get you in the top 6. There was still hope for us but either way we wanted to win this game. We came out strong winning the first point convincingly and then lost the next 4 in a row. We fought back very hard and tied it up 5 to 5. The next point was fairly long and they got a major, they did however burn most of penalty time off. We won that point with 3 alive, and sprinted the flag in to save as much time on the penalty as we could altho there was not much at all. Unfortunately, not going to say names *cough* (Mark Lancia) hung the flag with a hit. That basically means it was considered a dirty hang with no point plus we get a penalty and play with 4 the next point. We ended up losing that next point giving them the 6-5 lead. We lost the match mainly cause of an error on our part. Tampa played a great game. They are a good team and I've played with a bunch of them on Doc's, Mad respect for Paul Richards.

Chicago didn't go as we planned. I feel we made an large improvement from the first event but we are still not where I want us to be. World Cup is next and we plan to practice are asses off and get back to the top. We are truly a top team and it kills us not being in the top at events. With the new roster and staff the team is improving greatly. [..]

Thanks for all the support,

Billy Bernacchia
New England Hurricanes
Stay tuned to BillyBernacchia.com for further updates and an indepth look into the life of a pro paintball player.