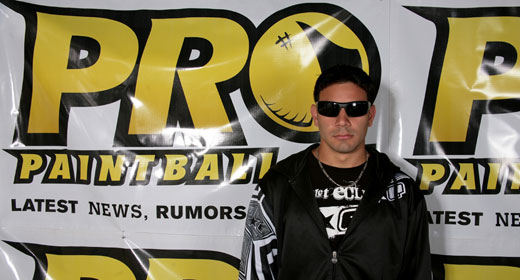 In our last rumor report, we discussed San Diego Dynasty's decision to not fly players in for practices. This decision affected Billy Bernacchia, a Connecticut resident and Planet Eclipse poster boy, representing the company in South America. Where would Billy go now?
Billy has played for other teams such as Hogans Alley Factory D1, Doc's Raider's, NE Hurricanes, SD Aftermath, Avalanche, and Vicious. He will be taking his skills, particularly his knack for playing  the snake, and heading back to play with his former team and friends on New England Hurricanes. The 'Canes are a Dye sponsored team so we are not sure what this means with Billy's relationship with Eclipse. Maybe Billy will represent Dye in South America? Read below to see what Billy and others are saying about the move…
Billy Bernacchia says,

Over the years I've had the opportunity to play with a number of different pro teams, players and coaches and each time I've learned something new and added to my skills. I think now is the right time for me to return to New England and to the Hurricanes and dedicate my time to doing more than just playing. I have an opportunity to help the team that first took me pro rebuild and return to the pros. Even when I haven't been on the Hurricanes, I've always been around, I know the guys on the team and I believe in them and in the organization. This is a great opportunity for me to do more than just be a player, and I am looking forward to the challenge.
Jeff Stein, Owner of New England Hurricanes says,
Billy's been a big part of NEH for so many years, even when he was playing with Dynasty or Vicious, I always considered him a Hurricane at heart. He brings so much to the table as a player, as an experienced pro, as someone who can lead by example and show our other guys how to take their craft seriously and how to give back to younger players at the field. This is such an awesome opportunity for us, it is going to make an immediate impact on and off the field.
John Battistini, Understood adds,
Understood is very excited to see Billy return to the Hurricanes organization in 2011. As an experienced professional player he brings with him a wealth of knowledge and skill that will add to the 'Canes already strong 2011 roster. We wish him and the whole team the best of luck in the upcoming PSP season.