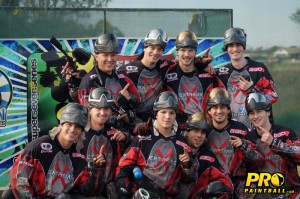 Round 2 of the Super 7 Australian Paintball took place the weekend of August 1-2 in Serpentine, just south of Perth. In what seems to be an emerging trend, we're going to continue to see many of the US Professional Paintball players traveling down under to enjoy the sun and compete in the Australian event series.
There were 4 teams left in the finals and 3 of the teams featuring US pro paintball players: Geelong Extreme, Menace,  STK, and Hostile Intentions.
Geelong Extreme featured Greg Siewers of the OC Bushwackers, Marcello Margott of SD Aftermath and Justin Rabackoff of Russian Legion/DC Arsenal
Menace featured Ryan Greenspan of SD Dynasty, Alex Savino of LA Infamous, and Bobby Aviles of SD Aftermath
STK featured Scott Kemp of LA Ironmen.
The Semi final match ups were Menace vs. Extreme, and Hostile Intentions vs. STK. Menace and GE played all three games and ended up in a 1v1 between Bobby Aviles and Justin Rabackoff to continue onto the Finals. The 1v1 ended in favor of Geelong Extreme as Bobby was eliminated after running out of bounds.
STK defeated Hostile Intentions in their Semi Final series and matched up against Geelong Extreme in the finals. In just two games Geelong Extreme and guests took to the podium for their First win of the season and also First Place for series points.
The next Super 7 Event is on the South Western side of Australia in Rouse Hill November 27 & 28, 2009.
For more information on the Super 7 Series check out Super7Paintball.com.