The Astra Invitational hosted at Paintball Fit in Dallas, Texas has come to an end and the stakes were high all weekend. With professional and semi-professional teams from all over the country competing for the chance to win $15,000, Blast Camp, a semi-professional team from Hobart, IN, defied all expectations and dominated. Their win has firmly cemented their already potent status as one of the best up-and-coming paintball programs in the country. 
Mike Hinman, a former San Diego Dynasty World Champion professional player, and currently one of the best paintball coaches in the world sat in with our insiders to give his thoughts on the event and what the success of the Astra Rsrch event could mean for tournament paintball across the country going forward. 
https://propaintball.com/wp-content/uploads/2021/08/Ben-Dunked-Not-Reel.mp4#t=,6
The Stage is Set
(Words by Mike Hinman)
Ad Astra, what is Ad Astra?! Well in Latin Ad Astra means "to the stars". To the brain child of the movement Demetrius Ninios it is "a movement to reach a new space of possibilities for our sport, we believe do exist, but we have not reached yet". 
How did this movement come to fruition? Well in order to understand what inspires a man to make the above quote we would have to walk a mile in his shoes and experience what he has experienced that made his brain go to this place of putting his money where his mouth is. But, let's get to the current reality. 
It was late April when I received a message from Meter. He wanted to talk to me. Naturally I made time to chop it up with an old friend. Meter had said with a long break between Philly and Chicago for NXL, he was thinking about getting some of the lower ranked pro teams from last season and most of the top semi pro teams and holding a one off event as a big practice. All of the teams would chip in $1500 on entry and the winner would take all $15,000. 12 spots were the plan, but as paintball players tend to do, a few bailed out last second leaving the event with 10 pro/semi pro teams. The stage was set! 
Rules and Structure
Where do we begin with this?! So the first thing that was said was they would use a limited paint format. This is much like the European Millennium League in years past, but not something that the leagues in the USA have done (yet). The 4 pods and a hopper gameplay was actually better then most had thought. I had imagined we would see guys with a few balls in a hopper running down the field and trading bodies due to a lack of paint. But I can't think of one time anyone ran out of paint. We (Aftermath) played seven matches and I believe we shot around 60 cases of paint. This number I feel would also be on the high side due to the light rain we played in. No one on our team reused pods or already opened paint. 
All things considered in the rules and structure of what Ad Astra wanted to do, the blind layout would be the largest single change that would alter the status quo in what we know as the "race to" or "x ball" style of paintball. 
I personally have seen how blind layouts can help grow the game. Some reasons I've been able to observe why blind layouts help, is because players don't have to worry about the two or however many weekends before the event of spending tons of money to feel they have a fighting chance to compete with the big boys. To me it is a combination of x-ball at it's base level and 7-man with the need to walk a field and make game plans without actually playing the field. 
The Competitors
Here is a team that has simply underperformed this season. They took off cup last year due to covid and have really seemed to struggle to regain their form. I think I can speak for other pro teams by saying we all are very aware of this team. They are capable of a lot more……. Just not this weekend.
With one win under their belt at the NXL Florida event, this team jumped out to a great start on the year. But the only issue with being the first winner of the season is, everyone starts to plan on how to beat you. Simply put, you won't be surprising anyone else. And with that said the Hurricanes had three tough losses by 1 point. Those losses turned into one point wins, and they would have made the semi finals.
Another semi pro team looking to make a name for themselves. Dropping 4 matches and winning one, these guys had 4 pro teams to face off with. They took their losses with respect and learned from it.
With a 2-3 record, the MLKings have come a kings ways this season. With a fresh rebuild, Charlie and the boys scored a minimum of 3 points per match…. Win or loss. This team has some young talent that could stick around in the pro division for years to come. The question will be is can they keep it together on the Kings?! Time will tell.
Also with a 2-3 record, this team just hasn't lived up to their potential. Too many lost low body situations. The squad just looked really hot or really cold all weekend. With two big 5-1 wins and two big losses along with a close loss to the Kings, this just wasn't their weekend.
Great to see my favorite students of the game having a solid showing at this event. 3-2 was their record and they only reason they didn't advance was a loss head to head with SDA. But the boys have come a long ways. All the AC Dallas fans should be proud of how far they have come in a short amount of time.
Wow didn't think we'd be seeing this after what has been a rough year for Dave Pando's team. They came out swinging at this event! With a 3-2 record they would secure a spot into the semis where they would ultimately lose to Blast Camp in a lopsided game and then catch AC Diesel in the consolation game for the second straight loss. Listen 4th place is respectable! And when you figure where they stand in the NXL (20th place), this is a great step for the team.
Coming off of a 5-0 prelims, the boys from Diesel were playing the most consistent to that point. But a back and forth loss in a rematch with SDA would send them to play LVL for 3rd which they utterly destroyed LVL in this match 5-0.
With three starters not in attendance and Joe Barret sick with a fever and unable to play on Sunday much…… this wasn't to be for our guys. We got it up for teams like Diesel and over looked teams like Blast Camp.
Blast Camp came out of the prelims at 4-1 and really had tightened it down as the tournament progressed. They had a convincing win over LVL in the semi-finals game 5-2, and then beat SDA 5-1. Simply put, this was their weekend. The boys from the Midwest deserve every bit of respect that came with this! Hats off to Virgil and his young team. As I said when I shook their hands as I was leaving the venue, "you've earned your right into the club". These guys on this weekend could hold their own with pro teams.
Thank you to JD Luckau and the whole FIT staff for the warm and genuine hospitality! As the owner of APX paintball…… the GI Evil was on point this weekend! The grey shell Evil with pink fill was nasty. Thank you Greg Pauley and GI for providing the event with great paint. In the finals every team shot the same lot number and batch as their competitors. This is how we also do it in my league(WCPPL). It's the right way to make sure the true talent on that weekend wins. Dare we say it was….. FAIR?! 
Thank you to the refs. You guys had to try to stop each and every player from doing their best to play the grey area, and you guys did a great job. Thank you.
Last but not least was the "feel" at FIT. The people that came out to watch and the local paintball community was very warm and made us Cali boys feel at home. Thank you to each and every person that I got to meet, shake hands with and talk to. 
Now we all take the next two weekends to recover and prepare for the NXL Chicago event that's coming along quickly. I look forward to seeing where paintball goes with the one off events as we go forward. People want variety. And that's ok! Now it's up to whom can supply the best product for the consumers. And that's how we get paintball to "grow". 
Thanks for the read,
Mike Hinman
https://propaintball.com/wp-content/uploads/2021/08/Blast-Camp-Victory-Not-Reel.mp4#t=2,8
Full Scores, from Spiral Event Management
Score are courtesy of Jerry Van Cleve at Spiral Event Management
Prelims:
| # | Team Name | Match Results | Total Score |
| --- | --- | --- | --- |
| 1 | AC Diesel | 5 – 2vs. Columbus LVL5 – 2vs. Seattle Uprising5 – 2vs. Chattanooga CEP5 – 1vs. San Diego AftermathExcluded from tie breaks5 – 1vs. NRG Elite | 25 |
| 2 | Blast Camp | 5 – 4vs. New England Hurricanes2 – 5vs. MLKings4 – 3vs. San Diego Aftermath5 – 2vs. Chattanooga CEPExcluded from tie breaks5 – 1vs. AC Dallas | 20 |
| 3 | San Diego Aftermath | 4 – 3vs. New England Hurricanes5 – 2vs. AC Dallas3 – 4vs. Blast Camp1 – 5vs. AC DieselExcluded from tie breaks4 – 3vs. MLKings | 15Tie break Rank: 1  |
| 4 | Columbus LVL | 2 – 5vs. AC Diesel5 – 3vs. Chattanooga CEP5 – 1vs. Seattle Uprising5 – 4vs. New England HurricanesExcluded from tie breaks1 – 5vs. NRG Elite | 15Tie break Rank: 1  |
| 5 | AC Dallas | 5 – 3vs. MLKings2 – 5vs. San Diego Aftermath5 – 1vs. New England Hurricanes4 – 2vs. Seattle UprisingExcluded from tie breaks1 – 5vs. Blast Camp | 15Tie break Rank: 1  |
| 6 | NRG Elite | 5 – 1vs. Seattle Uprising2 – 5vs. Chattanooga CEP3 – 4vs. MLKingsExcluded from tie breaks1 – 5vs. AC Diesel5 – 1vs. Columbus LVL | 10Tie break Rank: 1  |
| 7 | MLKings | 3 – 5vs. AC Dallas5 – 2vs. Blast Camp4 – 3vs. NRG EliteExcluded from tie breaks3 – 4vs. San Diego Aftermath3 – 5vs. New England Hurricanes | 10Tie break Rank: 2 |
| 8 | Chattanooga CEP | 3 – 5vs. Columbus LVL5 – 2vs. NRG Elite2 – 5vs. AC Diesel2 – 5vs. Blast CampExcluded from tie breaks3 – 4vs. Seattle Uprising | 5Tie break Rank: 1  |
| 9 | New England Hurricanes | 3 – 4vs. San Diego Aftermath4 – 5vs. Blast Camp1 – 5vs. AC Dallas4 – 5vs. Columbus LVLExcluded from tie breaks5 – 3vs. MLKings | 5Tie break Rank: 2  |
| 10 | Seattle Uprising | 1 – 5vs. NRG Elite2 – 5vs. AC Diesel1 – 5vs. Columbus LVL2 – 4vs. AC DallasExcluded from tie breaks4 – 3vs. Chattanooga CEP | 5Tie break Rank: 3 |
Semi-Finals and Finals
Semi-Finals
2 AC Diesel (1)5 San Diego Aftermath (3) 5 Blast Camp (2)2 Columbus LVL (4) 
Finals 
1 San Diego Aftermath (1)5 Blast Camp (2)
    Finals, Consolation Game
5 AC Diesel (3)0 Columbus LVL (4)
Special thanks goes out to Brian Wolfe of Verbhal Photo and Video for his tireless work in capturing some of the best content in the paintball industry. Check out the some more from Verbhal below!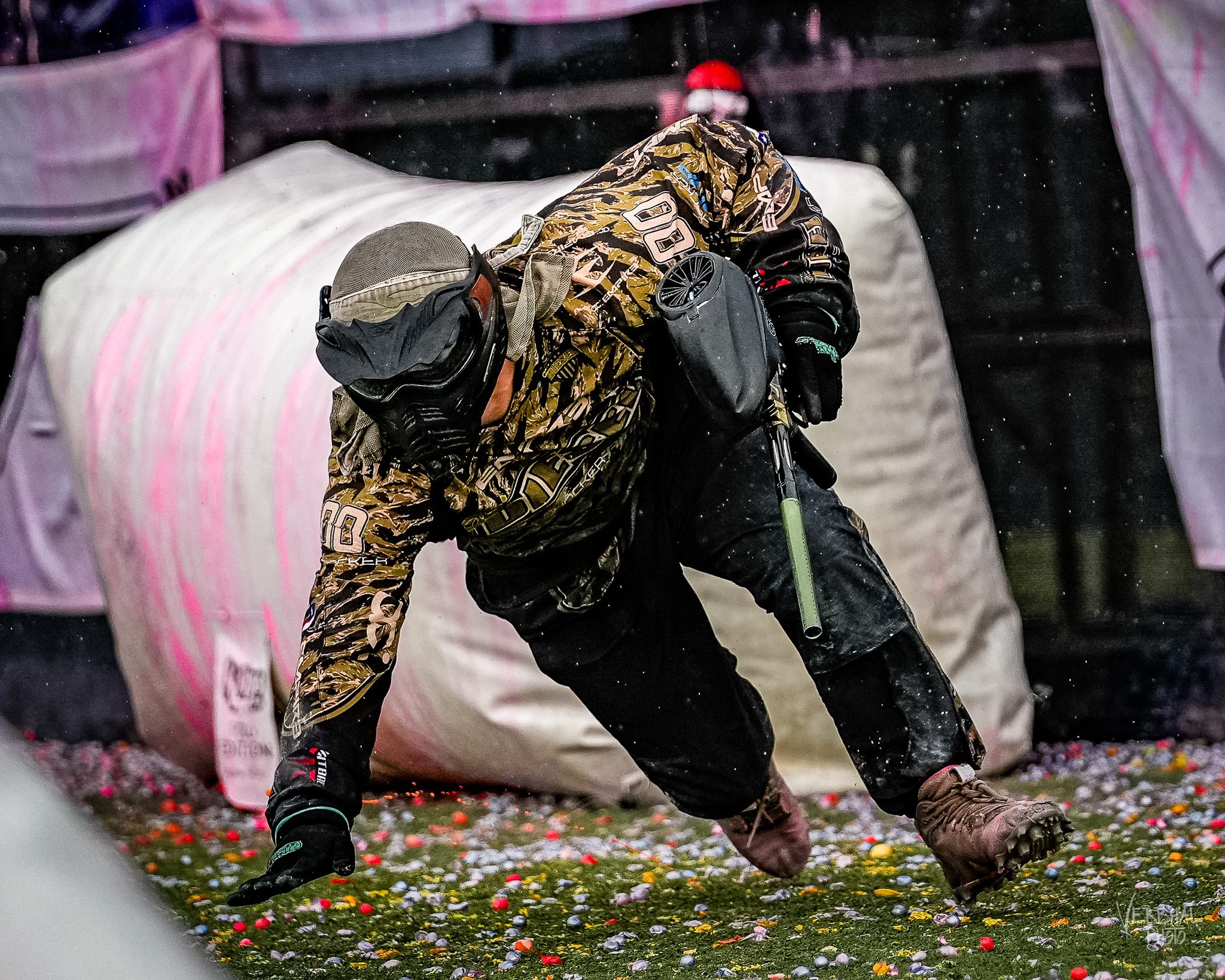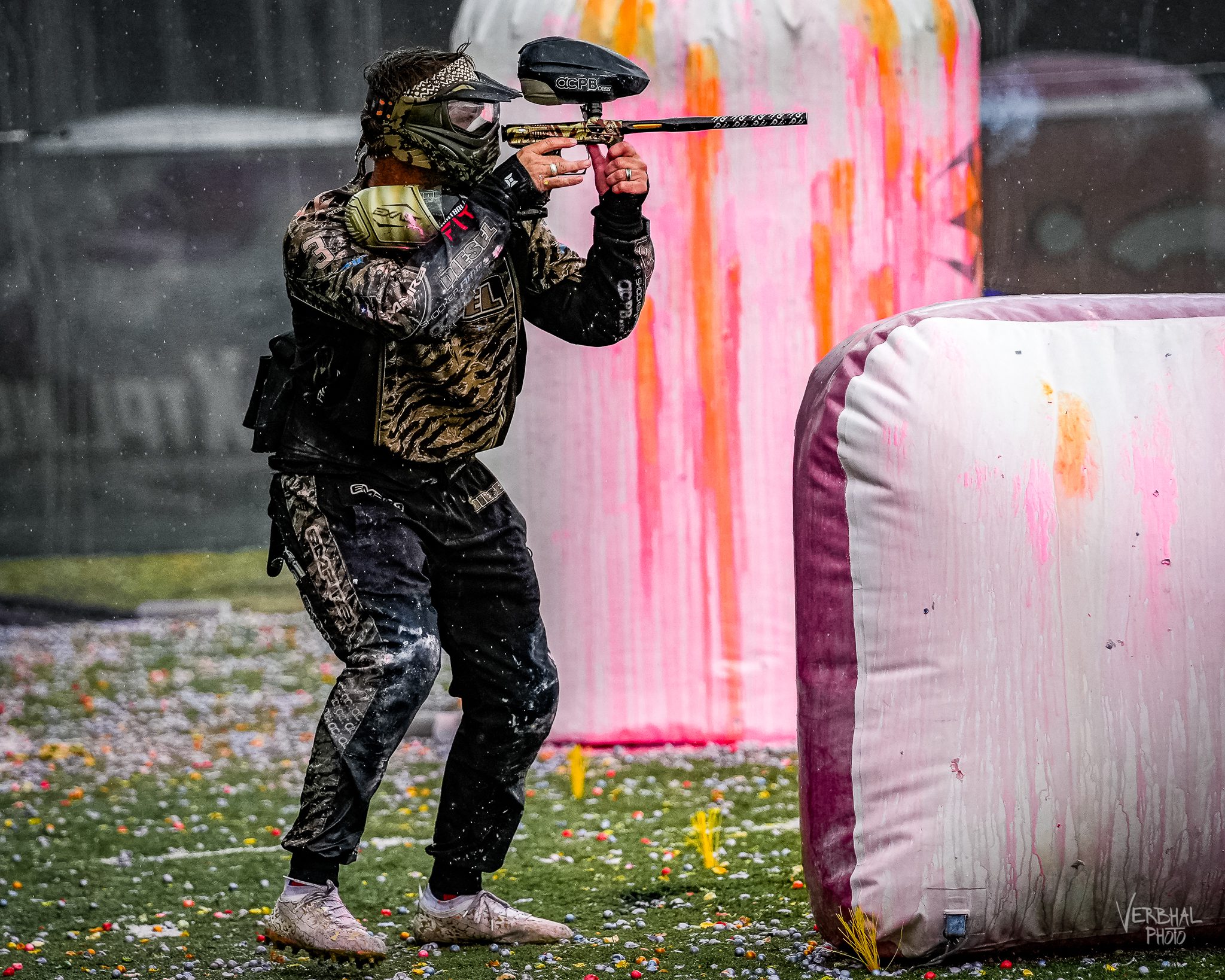 Previous
Next