If you haven't heard about Almost Famous Paintball yet, here's your formal introduction. We're not exactly sure how to categorize them because they seem to have their hand in a lot of different things.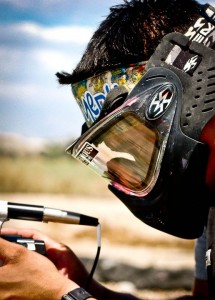 "We started out doing media coverage, mostly of SoCal events, but now we've added hosting our own events," says founder, John Arquilla. "We also have a few web series in the works. We're following a little kid team called GoGo13 and we have a fictitious comedy series called BCoOL, which is about a paintball team that really sucks. But they dream big."
2012 is a big year for Almost Famous Paintball. Continuing their steady stream of media coverage for SoCal paintball events, this year also marks the inauguration for the Almost Famous Paintball League (AFPL). The AFPL features a semi tournament series as well as a pump series, which feel more like a summer concert series than a standard paintball tournament. But to understand the AFPL is to understand the mission of Almost Famous Paintball.
Always recognizing that paintball, first and foremost, is about camaraderie and having a good time, Almost Famous created its signature event – Union Day. At this gathering, players of all skill levels are randomly placed on teams, giving everyone the opportunity to meet new people, learn from their teammates, and have a great time playing paintball. Music and an MC, as well as "scholarship" contests to attend the event for free help make this event a favorite in the SoCal paintball scene.
"Our message is this: 'YOU, yeah, you. Come play paintball with us. Let's hang out,'" says Arquilla. "We welcome everyone. If you've never picked up a marker before, come to Union Day. If you're a pro player that got kicked off your team, come to Union Day. It'll be the best paintball experience of your life – until the next Union Day."
The AFPL is the tournament version of Union Day. While the AFPL is for rostered teams, the easy going vibe, music, and MC have already made a good impression on participating teams. The next semi tournament will be held on April 7, 2012 at Camp Pendeleton and the pump tournament is scheduled for some time in May.
[youtube]https://www.youtube.com/watch?v=JdcSPJT-loE&hd=1[/youtube]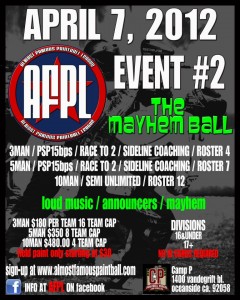 For more information on Almost Famous Paintball and the AFPL, check out almostfamouspaintball.com.
– Writeup courtesy of Tim Cerruti