Tampa Bay Times Features Alex Spence
The paintball world has proudly stood behind Alex is his fight against Leukemia. The Tampa Bay Times recently featured Spence in this human interest piece and with good reason. Alex has been fighting Leukemia while staying true to the competitive spirit we've seen him showcase on the field. Follow his story as the Tampa Bay Times' Joe Smith highlights and recalls the personal fight Spence had been going through.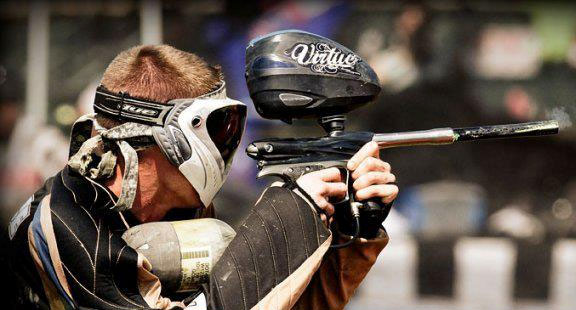 This is an article you don't want to miss- We wish Alex the best this year and look forward to his unshakable spirit and presence on the field as he returns to professional paintball.
https://www.tampabay.com/sports/humaninterest/article1218586.ece
BELLEAIR — The moment Alex Spence got a paintball gun for his 12th birthday, he was hooked.

An "adrenaline junkie," the Clearwater native has wakeboarded and raced dirt bikes, but paintball became his passion. He played every weekend he could, and, with some buddies, helped start the Tampa Bay Damage, a professional team coming off a world cup victory last season.

Spence, 24, has traveled around the country, as well as overseas, to compete in tournaments. His picture is in trade magazines, and a showcase in his Belleair home is filled with medals and trophies.

Paintball is his life.

"It's his driving force," his father, Bob Spence, said. "It's what keeps him going."

And paintball is partly what drove Spence to stay alive last year during a recovery from acute myeloid leukemia, a very aggressive form of cancer with a bleak mortality rate. Even with a successful bone marrow transplant in May, Spence had two infections that forced him to learn to walk again.

"Three different times, they gave me less than 10 percent chance of survival," Spence said. "It was a wild ride. Everything that could go wrong, went wrong."

But thanks to the support of doctors, family and girlfriend Alexandra Fuller, Spence is back doing what he loves.

This weekend, in Galveston, Texas, he will participate in his first paintball tournament since being declared cancer-free.

"It's unbelievable," Bob Spence said. "He had two close brushes with death, and to see him get out, and reach the level he's reached and dedication he's shown, it's inspirational."

• • •

The warning signs showed up in November 2010. Spence always seemed fatigued and sore but thought it was because of paintball season and his classes at St. Petersburg College.

But when an infection led Spence to get his wisdom teeth taken out in December, and he continued to feel worse, he got checked out at Mease Dunedin Hospital. Lab results revealed he had 96 percent cancer cells.

"We didn't know anything about (acute myeloid leukemia) at the time, I didn't know a single person who had cancer or anything," Spence said. "I had no idea what it was. I was like, 'Okay, well I'll stay in the hospital for a few days, get rid of this and get back to life.' We were in for a shock."

Dr. Ernesto Ayala, from Tampa's H. Lee Moffitt Cancer Center, said Spence's leukemia was more aggressive because of a chromosome abnormality. "It's a very poor prognosis," he said. "The chance of long-term survival is very low, probably 15-20 percent."

Spence went through two rounds of chemotherapy in the hospital, and his cancer cells decreased to 7 percent. His body took care of the rest, as he was cancer free by February 2011. Fuller, Spence's girlfriend of four years, never left his side, compiling a book of medical records and pill schedules, communicating with doctors, and often sleeping in his hospital bed.

"Out of the entire ordeal, she probably wasn't there maybe four nights," Spence said. "She definitely saved my life."

• • •

In early March 2011, Spence woke up with a 103-degree fever due to an infection, which temporarily paralyzed him from the waist down. Fuller called Moffitt, which had no beds available, so she drove him to Mease Dunedin Hospital. By the time he got there, Spence's temperature was 106.1.

Doctors told Fuller that if she had driven the extra 30 miles to Moffitt, he would have died.

"Everything happens for a reason," she said.

Spence wasn't out of the woods. Nurses and doctors told Fuller to prepare for the worst, start making arrangements.

All around after Spence moved back to Moffitt, there were reminders of tragedy. Several other patients on his floor — his new friends — had died.

"It was very scary," Spence said.

Doctors told Fuller one of five things would happen. He could be paralyzed from the neck down. He would have organ failure. He'd suffer brain damage. He could die. Or, as it was put, a miracle could happen.

"Thankfully, it was the miracle," Fuller said.

Spence was hospitalized for a month, slowly learning how to walk. When he was released, he cleared his mind by taking strolls with his dog, a playful 90-pound Doberman called Dozer, his "pride and joy."

"He wouldn't let me die," Spence said. "Because who else would pet him?"

With no family members a bone marrow match, an out-of-state donor was found for a transplant May 17 at Moffitt. It succeeded — but 20 days later, Spence suffered veno-occlusive disease, a blockage in some small veins in the liver. His liver was failing.

But through weeks of treatment, Spence got better, with Ayala sensing a fighting spirit.

"He has a will," Ayala said. "He really is a persistent type of person. He would do everything I told him to do. And he has something else, a wonderful person by his side, his girlfriend, she would always be by his side. She is a very special person, and was critical for his recovery."

• • •

Spence had to spend 100 days in an adjacent hotel after the transplant before going home. The day doctors said Dozer could visit, Fuller rushed home to bathe the brown, boyish Doberman, and brought him back.

When they were five minutes away, Dozer began to bark, and bounced in the backseat. Spence, wearing a surgical mask and hat, was immediately recognized by Dozer, who jumped on him.

"It was the most amazing thing ever," Fuller said.

In August, Spence was allowed to come home. The leukemia could return, but after being in remission for 14 months there's a good chance it's gone, Ayala said.

When Spence was cleared to practice paintball again a couple months ago, he was so happy, he couldn't sleep the night before. "He had the biggest smile on his face," Fuller said.

"I felt like I was a kid going to Disney World," Spence said. "Getting back to paintball is a huge milestone for me. It gives me something to look forward to."

Spence is thinking about going back to school, possibly studying accounting, like his dad. He's looking forward to May, when he can find out the identity of the marrow donor. All they know is it's a woman, and she sent a letter to Spence at the hospital.

"It says, not only did she save his life, he also saved hers in a way," Fuller said.

But first comes paintball, with Spence joining the Damage's semipro team for a while until he gets his strength and skills back. Sponsors pay for his team's equipment and travel, and Spence supplemented his income by running a T-shirt printing business out of his house. Winning teams split cash prizes at tournaments like October's Paintball Sports Promotion world cup. Back then, Spence could only coach. Now he can play.

"I have to earn my spot back," he said. "But I think I'll be okay."

After what Spence has been through, it's hard to doubt him.

Joe Smith can be reached at [email protected].