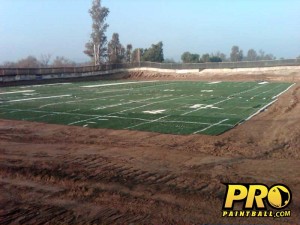 San Diego Aftermath players have spent the last week remodeling the world famous SC Village. Pro Paintball players local to the area have been working feverishly to tear out the existing facilities and set the foundation to what will surely become the premier place for tournament paintball in Southern California. Today, Pro Paintball's very own Brandon Mason snagged a few photographs of the new paintball super park. Behold, the first look at the new Aftermath Arenas at SC Village in Corona, CA.
Initially the park will have 4 professionally graded paintball fields set up to play the PSP Race-ball format. According to Mike Hinman, the plan is to build fully enclosed pits to enable paintball teams to stage on the field and that he plans to run airlines directly into the pit for players to gas up their paintball guns. Mike mentioned that this will be the first park to on the West Coast to truly rival the X-ball training center running at Paintball Central on the East Coast and that he is very excited about the possibilities. Readers may recall the amount of talented players that have played at PBC, many of which ultimately ended up in the unstoppable Gridlock and Baltimore Trauma pro paintball programs.
This weekend will be the park's "soft opening" and word is that the park will be buzzing with teams preparing for the WCPPL regional race-ball series. Entry for paintball players this weekend is $20.00 and includes both entry and air to the park. Word on the street has it the owner of SC Village himself, Giovanni D'Egidio, will be serving up a free lunch for everyone that will be playing on Saturday. Stay tuned as we will have both video and photos from this weekends practice available for viewing sometime next week.
Here is a first look at two of the fields they are working on. Keep in mind that these photos were taken at 7:30am this morning and crews have been at work all day to get the park in shape for tomorrow.