Over the last 5 years, Planet Eclipse has proudly produced several award winning series of Paintball documentary-style video episodes and event profiles and streamed them direct to you, via the popular YouTube channel, https://www.youtube.com/user/PlanetEclipseEcast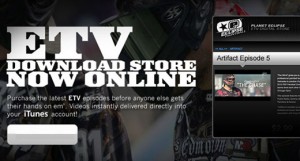 We have explored many aspects of the game, from national tournament scenes to Paintball around the World, tips and tricks from the Pro players to full on interviews and documentaries, such as the celebrated Artifact series. Each piece has been released free of charge for all to enjoy and it is our intention to continue this practice. Paintball is our passion and ETV affords us the ability to place the World of Paintball at the fingertips of the viewer.
However, we want to improve our service to you guys by producing more pieces, more regularly and in a format that allows you to enjoy ETV wherever you are, so we have collaborated with Mobile Rider, a custom platform for media management and publishing, and launched our very own Digital Download Store. Mobile Rider clients include many action sports and music companies such as Volcom, Billabong, Warren Miller, Skull Candy, Monkey-With-a-Gun and U2.
In weeks to come, at the store you will find a selection of our premium episodes from our back catalogue of ETV episodes as well as new footage as and when it becomes available. The store is accessible via the Planet Eclipse website (www.planeteclipse.com) and customers can download versions of the Eclipse videos for their Mac or PC via iTunes as well as version playable on iTunes compatible devices. Please note that customers must have iTunes and iTunes supported devices to play the content.
Downloads range in price between $2.99 and $4.99 and customers will receive BOTH a desktop and iPod/iPhone optimized version when purchasing a single title for the one price. Purchased videos download directly through the customer's iTunes account then can be added to their devices (Content cannot be purchased from and directly added to mobile devices. Purchases will appear on your statements as Mobile Rider LLC).
Planet Eclipse will continue to stream all of its content free of charge via YouTube as well as release its in-store and packaged promotional DVD's.
So why, download? Basically, by buying an episode, you earn the ability to save the piece to your Mac or PC as well as your chosen iTunes compatible device so that you can watch at your leisure without the inconvenience of buffering issues or internet connection problems. Also, new video content will be released for download on the store two weeks before it is available to view on YouTube so you will be among the first to see the latest episodes. Content on in the digital download store will be posted in its entirety, while some Youtube content maybe broken up and released in parts due to time constraints.
Ledz, Planet Eclipse's Director had this to say, "YouTube is a great platform but it has its limitations. Of course, it's a video stream, so viewers are limited by their Wi-Fi accessibility. That means no ETV on the plane ride. Also, we are constantly battling YouTube's copyright process, even though we properly license all of our music. We've had music removed and later restores on several occasions last year, but naturally this provides issues for our viewers."
"iTunes still doesn't welcome any Paintball content into its store and their podcast channels have technical and hosting issues. It stopped being a good way to deliver download files mid-last year, "says ETV Director and Producer Dan Napoli, "so it's great to be able to partner with Mobile Rider."
Eclipse is looking at the store revenue to help expand the ETV Programming budget. "We spend a sizable amount of our marketing budget on our videos, but we always seem to deplete our resources before we finish all the features we want to make," says Ledz. "So if this creates a revenue stream for ETV videos, I can promise that we will make more videos and go places we haven't yet been. So keep your eyes peeled for the ETV film crews around the world and lookout for some NCPA action this year to name just one new protect that this venue will allow us to feature."
The Eclipse Digital Download store has launched with five titles; the full 37-minute version of Artefact 5: The Chase (Part one is currently up on YouTube and Part Two is coming soon).  Other titles available include Artifact Four: The Grind, Rivalry: The Vicious XSV documentary, Across the Pond (2009 Documentary short) and Death and Glory (2006 Documentary short).
This is just one way that Planet Eclipse is moving forward to get our customers what they want, when they want it, and on the device they want to see it on.
…Ledz, Planet Eclipse.
Visit the ETV Store Today.