DYE Paintball has released a killer promotional video highlighting the new paintball gear for 2012. Check out this amazing game footage of pro players from the Ironmen, CEP and Damage battling it out in the new DYE C12 gear. I'll admit, I watched the video a few times as it combined great action shots, proper use of music, and effective marketing. Take a look;
[youtube]https://www.youtube.com/watch?v=ifbnGZXykFA[/youtube]
New Paintball Gear from DYE – C12 Jersey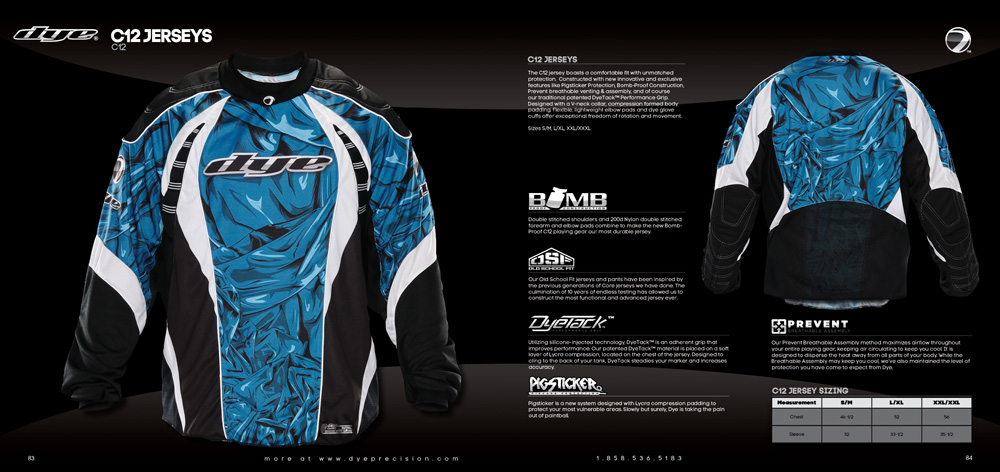 The C12 jersey boasts a comfortable fit with unmatched protection. Constructed with new innovative and exclusive features like Pigsticker Protection, Bomb-Proof Construction, Prevent breathable venting & assembly, and of course our traditional patented DyeTack? Performance Grip. Designed with a V-neck collar, compression formed body padding. Flexible, lightweight elbow pads and dye glove cuffs offer exceptional freedom of rotation and movement.

DyeTack
Utilizing silicone-injected technology, DyeTack is an adherent grip that improves performance. Our patented DyeTack material is placed on a soft layer of Lycra compression, located on the chest of the jersey. Designed to cling to the back of your tank, DyeTack steadies your marker and increases accuracy.

Breathable Assembly
Our Breathable Assembly method maximizes airflow throughout your entire playing gear, keeping air circulating to keep you cool. It is designed to disperse the heat away from all parts of your body. While the Breathable Assembly may keep you cool, we've also maintained the level of protection you have come to expect from Dye.

PigSticker Protection
Pigsticker is a new system designed with Lycra compression padding to protect your most vulnerable areas. Slowly but surely, Dye is taking the pain out of paintball.

BombProof Construction
Double stitched shoulders and 200d Nylon double stitched forearm and elbow pads combine to make the new Bomb-Proof C12 playing gear our most durable jersey.

Front
1. Quilted double stitched shoulder padding
2. DYE Tac
3. Under arm Prevent mesh venting
4. Breathable Assembly chest venting panels
5. Pigsticker wrap around rib protection
6. Thin cut glove cuff w/ thumb hole

Back
1. Breathable Assembly shoulder venting panels
2. Large area for custom name, numbers or team logo
3. Double stitched 200d nylon forearm & elbow pads
4. Pigsticker wrap around rib protection
5. Breathable Assembly flow through lower back venting
New Paintball Pants from DYE – C12 Pant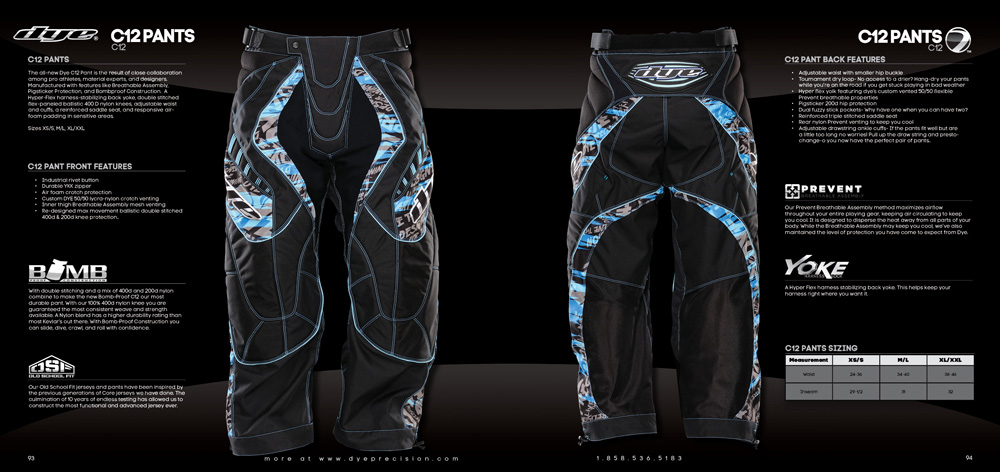 The all-new Dye C12 Pant is the result of close collaboration among pro athletes, material experts, and designers. Manufactured with features like Breathable Assembly, Pigsticker Protection, and Bombproof Construction. A Hyper-Flex harness-stabilizing back yoke, double stitched flex-paneled ballistic 400 D nylon knees, adjustable waist and cuffs, a reinforced saddle seat, and responsive air-foam padding in sensitive areas.

Bomb-Proof Construction
With double stitching and a mix of 400d and 200d nylon combine to make the new Bomb-Proof C12 our most durable pant. With our 100% 400d nylon knee you are guaranteed the most consistent weave and strength available. A Nylon blend has a higher durability rating than most Kevlar's out there. With Bomb-Proof Construction you can slide, dive, crawl, and roll with confidence.

BACK
1. Adjustable waist with smaller hip buckle
2. Tournament dry loop- No access to a drier? Hang-dry your pants while you're on the road if you get stuck playing in bad weather
3. Hyper flex yolk featuring dye's custom vented 50/50 flexible Prevent breathable properties
4. Pigsticker 200d hip protection
5. Dual fuzzy stick pockets- Why have one when you can have two?
6. Rein enforced triple stitched saddle seat
7. Rear nylon Prevent venting to keep you cool
8. Adjustable drawstring ankle cuffs- If the pants fit well but are a little too long no worries! Pull up the draw string and presto-change-o you now have the perfect pair of pants.

FRONT
1. Industrial rivet button
2. Durable YKK zipper
3. Air foam crotch protection
4. Custom DYE 50/50 lycra-nylon crotch venting
5. Inner thigh Breathable Assembly mesh venting
6. Re-designed max movement ballistic double stitched 400d & 200d knee protection.