Baca Loco offers up his take on breakout strategy for the WCPPL's Event 2 layout. If you've read any of his previous write-ups, you know his thoroughness in analysis and keen understanding of the game can provide meaningful insight into the strategic particulars of any field layout. If you study and apply it well enough, you might just find yourself playing for the podium in three weeks..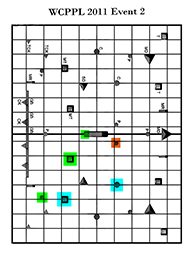 Check out a teaser of the article below and the full monty here.
On this layout the potential exists for some very fast and destructive points to be put up from the D-side. This is true despite the fact that many D-wire bunkers are in a disadvantageous position vis-a-vis the snake. The key to those fast points is to either quickly eliminate D-side players and/or deny them wide spots on the field while taking large chunks of real estate early.