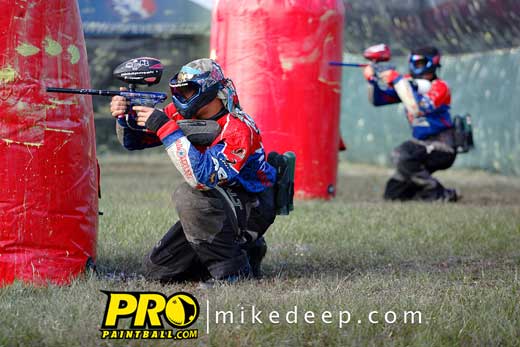 Looking back, last week's 2011 PSP World Cup was a great success. Players and teams from across the world converged into the middle of Florida to compete for their respective titles. The final match up between pro paintball teams Tampa Bay Damage and the 2x returning champs Russian Legion reminded me of the great rivalry between USSR and USA hockey programs. The match was exciting to watch all the way to the very end and ultimately culminated in Tampa Bay Damage defeating reigning Cup champions Russian Legion. Exciting times for sure. In case you missed the final match you can watch (for free!) Tampa Bay Damage do battle against the Russian Legion at the 2011 PSP World Cup.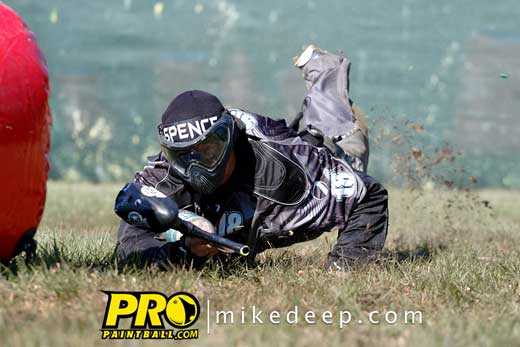 World Cup is looked upon as "the" event to debut new paintball gear. Vendors hauled the new paintball gear in from across the country and in several cases, sold out of their event inventories. Here is a brief synopsis of the events main attractions;
New Paintball Gear at World Cup:
GI had the new GI SLEEK goggle system on display. The goggle features great visibility and a lower than normal goggle strap – designed to increase the level of comfort for recball players.
Empire Paintball was showing off the new Empire Sniper paintball gun to a lucky few. Some of which were able to buy the Empire Sniper prior to its official release this coming December. For the record, the gun is light, looks good, and has nearly every feature a pump player could possibly desire. I can't wait to get my hands on one — stay tuned for a ProPaintball review coming soon.
Virtue was demonstrating their shot recording software (which is really neat!). They held contests all weekend long in which players were able to figure out who had the highest rate of fire. Progress and scores were posted on a huge projection screen inside the booth. Virtue also unveiled a new handheld gun-shaped chrono graph that appeared very sturdy and small enough to fit in your pocket. No word yet on price.
HK Army/PBFashion had their new Shredder paintball cleats and packs on display. Unfortunately the worlds largest HK Army headband did not make its way into the record books this time around. Not HK's fault however — Guinness wasn't able to get a record keeper to the field in time.
Both KM and Bad Dog had a ton of really good looking goggle straps available – Our favorite was Bad Dog's Tampa Bay Damage strap – the Damage graphics/colors look awesome and they fit on both new and old generation goggle platforms.
DYE Precision unveiled the new DM12 as well as a line of off the field apparel which looked like something you would find in a skate/surf/snow shop. Many players were inquiring as to the future of the NT platform. ProPaintball insiders tell us that work continues on a new NT and a release is targeted for sometime next year.
Darryl Trent and Luxe Paintball had several awesome color schemes anodized on Luxe 1.5's and 2.0's. The splash anodized Luxes really caught our eye and Tony Perez's voice in the new Luxe menu was hilarious. Stay tuned for our video coming online shortly.
In addition to media coverage and countless meetings, I had the opportunity to play with my friends from LIFT in division 1. According to the score sheet we took (and gave) a few beatings. For those of us who were there it was a different story. There is true brotherhood on LIFT and it was an honor playing with the team.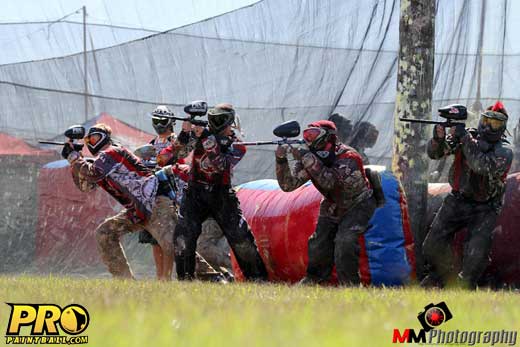 On a related note, striking a balance between playing and covering events is much more difficult than it appears – but the battle is well worth it. There is something about the adrenaline rush when you step out on that field. The thought that you and your buddies have to fight five other dudes and make your way across the field — or else suffer the consequences. Playing competitive paintball with your friends is both invigorating and challenging. At the end of the day I wouldn't change it for the world.
The weather was great. Aside from a bit of muck on Wednesday, this event was filled with clear skies, light breezes, and dry weather all weekend long. Everyone we talked to was having a great time both on and off the field. Here are a few highlights:
Pro Paintball News & Rumors from World Cup:
Omaha VICIOUS made a power play at World Cup. Vicious made waves by not only making the teams first appearance in the prestigious Sunday club but also taking 4th place at the event. Congrats on the podium finish, great work Vicious! The red "Sunday" jerseys looked great.
Billy Wing of the LA Ironmen is said to be officially retired from professional paintball. According to ProPaintball insiders, Billy is moving to Florida and will continue to run sales in Central and South America for DYE Precision. Billy has an ability like few others in that he is able to both read the field, play the field, and command the field, all at the same time. In addition, Billy has a great personality and has always been friendly to those on and off the field. I can't tell you how many times Billy has spent time breaking down the field for Brandon and I and explaining how we should be playing it.We are bummed to see him retire from the pro court. Hopefully Wing will keep playing with fellow teammates Mike Paxson, Mr. U and others on the Ironmen Tactical Team.
In division 1, Upton 187 beat out Top Gun for the PSP World Cup. 187 has been a solid team all season long and shortly after the teams victory, they announced their intent to go pro in 2012. According to insiders, Division 1 runners up, Top Gun is considering a move to the pro division in 2012 as well.
San Diego Dynasty was literally unstoppable in the prelims at Cup. The team won 21 unchallenged points (thats 3 consecutive matches that Dynasty won 7-0!) and sealed up the PSP 2011 Series Championship. Shortly afterwards word reached us that a handshake deal between Empire Paintball and San Diego Dynasty had been reached to continue the partnership. While nothing has been "signed/sealed/delivered", we would imagine that both Empire and Dynasty will continue together in the coming years. Congrats guys!
PSP sends word that "406s Finest" out of Montana won the Division 4 RaceTo-2 World Cup Title instead of placing 2nd as announced earlier. Congrats to James Greer, Kelly Liggett, Kris Liggett, Jacob Timmons and Seth Vannoy on their win!"
Check out the action packed galleries from pro paintball photographers Mike Deep (Part 1, Part 2) and Phillip "Stretch" Baker – Part 1.
For those of you who were able to attend PSP World Cup, what did you think? How did your team fair? Did you pick up any new paintball gear?